Pres. Bill opened this week's meeting with the singing of Happy Birthday to our March birthday members.  We welcomed Jan Schwartz as a new member from the YMCA.  Jan thanked our club for our donation to the Y's new STEM lab.  Bill challenged members to get out there and visit local businesses to ask them to place an ad in our 100th anniversary booklet.  Ken asked members to get their reservations in for our big celebration on April 22.  He is working on some entertainment for the event with Dean and the Boys & Girls Club as well as a possible visit from a character from the 1918 era!  And there will be CAKE!  (Hopefully it will be fresh, not 100 years old.) Janet passed around tickets for our pancake breakfast to be held on April 14 at Applebee's.  They will be available at each meeting until then.  Walt reported that there was a meeting this morning of the Shawnee K-Kids with about 100 members and later there was a K-Kids meeting at March Elementary, and tomorrow a Builders Club meeting at the Middle School.  Neal then presented a check to Jana Morris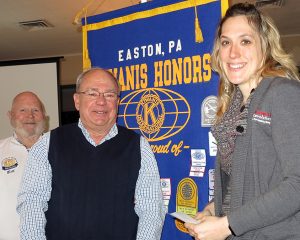 from Recovery Revolution who told us of their fund-raiser on April 14, an evening of comedy and food: "Steps to Recovery" Comedy Social.  Terry Kennedy who has been making the personalized books for children announced that he will be stepping down from that post and is hopeful that members of Easton High's Key Club may take over the project.  Terry has done a wonderful job with these books for many years and we truly appreciate all his work with 1st grade literacy.  Thank you, Terry!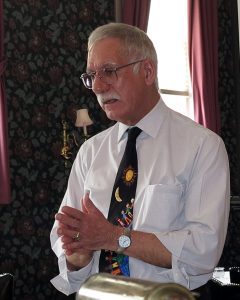 Neal then introduced Bob Drake, Project Manager of farm operations at the Monocacy Farm project.  The farm plots are on the property of the School Sisters of Saint Francis in Bethlehem.  About half of the acreage is devoted to growing vegetables to be donated to the needy through agencies such as the 3rd Street Alliance and the Interfaith Food Bank, both located in Easton, as well as several other agencies from Easton to Allentown.  Volunteers do the planting, weeding and harvesting.  He showed us a brief video showing the co-operation of many people representing several organizations and churches.  The volunteers "adopt" a bed and care for and grow the produce.  They do programs for children that include 1 hour of education and 1 hour of working on the farm.  Many children come in thinking that veggies are "yucky" but soon change their minds after sampling the fresh veggies right from the farm!  Local people can come to the farm and for a fee can have their own plot of land to grow their own produce.  They can accommodate up to 100 plots.  They have even created their own well so that the water used does not have any additives to keep things truly organic. Click for more details about the School Sisters of St. Francis Monocacy Farm Project.