Our meeting this week began with the induction of a new member;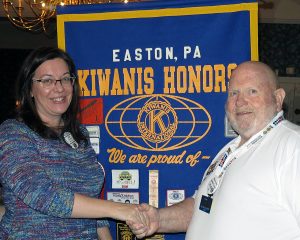 Jan Schwartz from the YMCA.  Jan has two children who are both in K-Kids, and her brother and mother are both Kiwanians.  Welcome Jan! Walt and Nick both assisted the Shawnee K-Kids in making dog biscuits this morning.  He also announced that we have 5 applicants now for the CIT scholarship.  Opportunities are available to read the personalized books with children on April 9 at Forks elementary and on April 12 at Tracy elementary.  Janet reminded us that our Pancake Breakfast fundraiser at Applebees is fast approaching on April 14 and she needs your ticket money by next week to give them a count.  James told us that the opioid steering committee met on Monday to begin planning the next public meeting and they are hoping to broaden the reach.  The next regular committee meeting will be on April 9.  Ken reported that our Centennial Celebration is coming along and will be a wonderful time with something for everyone so get your reservations in by next week.  Barb and Janet volunteered to help set up the morning of the event.  Joanne reported that we have the license for our Super Raffle and they will be available at our Centennial Celebration.  Pres. Bill reported on our slate of officers for election on May 2.  President: Neal;  Pres. Elect: Skip; V. Pres: Janet;  Treas: Gary.   Board of Directors: Walt, Chris, Sara, Ruthann, and Joanne.   There will be a board meeting next Wednesday at 11AM.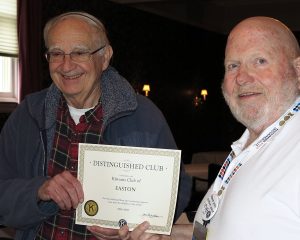 Bill then presented past president John Kennedy with a pin and certificate acknowledging that during his presidential reign we were once again a Distinguished Kiwanis Club!  He then turned the meeting over to Skip who announced that our speakers for the next two weeks will be Michael Stanczak and John Morganelli.  He then introduced today's speaker, Dr. Janet Westlund and Dr. Janel Briggs.  They are both doctors of audiology, which takes 8 years of training to achieve.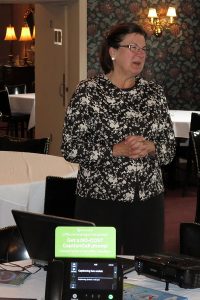 They presented a program complete with a slide presentation describing the types of hearing loss: sensorineural, conductive, and mixed.  The most common is sensorineural which happens gradually, is age-related, and can be caused by excessive noise, and is a natural progression of hearing loss.  Tinnitus can be the 1st sign of hearing loss and has many causes but no cure.  When you go for a hearing evaluation the first thing is to check in the ear for possible wax build-up or a physical cause.  Then you go into a sound booth to test for hearing of different pitches of sound and check for clarity.  When you have a hearing loss, hearing aids can then be advised to help.  Hearing aids have come a long way and can now be controlled remotely according to the environment.  When hearing aids are not enough, there are other assists such as caption telephones, microphones, etc.  Technology is constantly changing.  Several questions were asked as to the uses of cochlear implants which require surgery and are only for severe hearing loss, and about battery life which we learned can be affected by temperature and moisture.  Re-chargeable batteries are not yet available for hearing aids.  Unfortunately, insurance does not cover hearing aids or batteries.