Sunday April 22nd, 2018 Easton Kiwanis had 100 years of its history on display for their "Centennial of Service Celebratory Gala Brunch."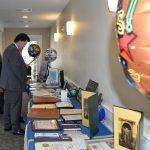 Kiwanians, spouses, guests, business leaders and political leaders arrived and were greeted by the Loud Ones Unity Dance Team from the Boys & Girls Club of Easton. After an enjoyable brunch at the Green Pond Country Club there were various expressions of thanks for what Easton Kiwanis has done for the local children and community in the past 100 years and an unveiling of what they plan to do for the residents of Easton starting this summer. An ambitious plan has been unveiled to build a new young-age accessible playground and community gardens adjacent to the Boys & Girls Club in the Neston Heights neighborhood of southside Easton. It will be a gift-to-the-city as explained by Easton Kiwanis Foundation President Dr. Kenneth Wildrick. The outdoor space will provide a safe place where young people and adults can learn about fitness and nutrition, build inter-generational relationships that foster an atmosphere of teamwork, responsibility and mutual trust by planting, harvesting, preparing and ultimately consuming healthier foods. The playground will offer a state-of-the-art family-focused environment where youth can develop their physical motor skills, enjoy early social interaction and stimulate mind, body and soul with an early introduction to cooperative sharing and learning. The fundraiser was called "a swinging goal for a cause". First to speak was the Honorable Lamont McClure, Northampton County Executive who expressed gratitude for all that Easton Kiwanis has done over the many years.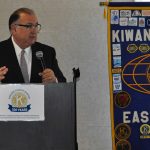 And when the Honorable Sal Panto, Mayor of the City of Easton completed his message of thanks for what Kiwanis has done in the past 100 years, he promised the City would support the project with a $50,000 grant. He was followed by State Senator Lisa Boscola who presented the Kiwanis with a Senatorial congratulatory proclamation along with a pledge of $20,000. Club President Bill Walters remarked that this year instead of Easton Kiwanis providing grants to many area agencies, they are themselves receiving grants and gifts to accomplish their Nutritiously Swinging goal and with the donations and financial support received prior to and at the afternoon party they have now exceeded $200,000 towards their goal of $290,000.