The Kiwanis Club of Easton had a good attendance for our meeting this week with 19 members.  A special welcome back to Al Rutherford for joining in.  Pres. Bill announced the June birthdays and anniversaries, and this secretary thanks everyone for singing to her!  Bill reported on the Board meeting which was held prior to our regular meeting. Approval was given to place an ad in the PA District Convention booklet highlighting our 100thanniversary year and also approved was $150 to sponsor a hole for the Palmer Kiwanis golf tournament.  Bill reported on our anniversary project and gave us the news that we were awarded $15,000 from the Kiwanis International Children's Fund! Our signature 100thanniversary project is well underway to being funded and ground breaking is scheduled for July 18, 2018, our actual anniversary date.   Joanne reported on our Super Raffle which is next Wednesday, June 13.  She still has some tickets left so keep on selling and let her know as soon as possible that you have one – or more – sold!  Bill let us know that we have possibly 6 members attending the district convention in August in Pittsburgh; a great representation for our club!  The PA district is again selling raffle tickets at $20.00.  Let him know if you are interested.  Vic Dennis then introduced our speaker for today.  Len Buscemi is no stranger to our club as he has presented programs before and is an extraordinary Easton historian.  Before he began his program for today on the Floods of Easton, he informed us that he is treasurer of the Easton Area Community Center and they are having a unique golf tournament; at night under the stars with glow in the dark golf balls!  Sounds interesting!  Let him know if you are interested.  Back to the Floods of Easton.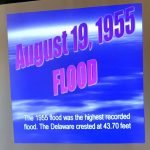 The first recorded flood was in 1840 and washed away the 3rdSt. bridge; the first of many floods to do so. He presented pictures from the floods of 1840, 1841,which was 35 feet above flood level; 1862, which washed away all bridges from Mauch Chunk to Easton; 1895, 1901, 1902, when the railroad bridge collapsed onto the 3rdSt. bridge; 1903, the highest recorded level to that date at 38.1 feet; 1919 when the Island Park bridge was destroyed and never replaced; 1920 with pictures of ice chunks at Ingersoll Rand; 1936 with ice flows passing by the houses on Front Street and pictures of the toll house which is now at Harkers Hollow Golf Club.  He continued with the flood of 1942 with pictures of Ingersoll Rand and then 1945 where the Bushkill Creek flooded CK Williams.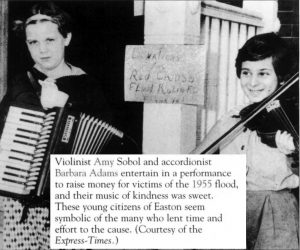 Then the BIG ONE; August of 1955 which at 43.7 feet was the highest ever recorded.  Many records in the basement of the post office were lost; the free bridge on Northampton St. was destroyed making it necessary for the Army Corps of Engineers to construct a temporary Bailey Bridge across the Delaware, and there was much devastation all along the Delaware River.  The 3rdSt. bridge survived but was covered with debris. Since then there have been floods in 2004, 2005, and 2006 on the Delaware River and then in 2011 a flash flood of the Bushkill Creek.  As always when Len visits us, it was an interesting and informative talk.