We had a light turnout for this week's meeting of just 14 members; guess the others are taking advantage of this lovely summer weather! Joanne Cappellano thanked everyone who worked to make our Super Raffle a "Super Success" again this year.  We had a profit of over $8,000 including the Super 50/50.  Pres. Bill reminded us of the Palmer Kiwanis Golf outing on July 16 at the Riverview Golf Club.  James gave a report on the latest Opioid Task Force meeting which was held on Monday evening. They now have a Facebook presence and an event coordinator and are targeting school age youth.  With schools out for the summer there is a little lull but the next event will be at Palmer Days, August 16-19 and they are partnering with other organizations at various events.  He will keep us informed.  Watson announced that the Sigal Museum is having a "Drinking with the Founding Fathers" evening at the Bachman Tavern on June 30 where you can join Bethlehem author Mark Will-Weber for an interesting evening.  Remember to mark you calendars for July 18, our actual 100thanniversary when we will be meeting at the Boys and Girls Club for the official groundbreaking of our 100thanniversary project followed by a picnic style lunch at the Castel Club.  Since our speaker for today had to cancel at the last minute,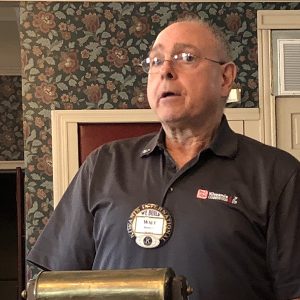 Walt volunteered to be our speaker.  He started by telling us the story of "Dina the movie" which is about a member of the Abbington Aktion Club and how it has gained international attention. One of the Kiwanis members, who is the Aktion Club advisor and Dina, the star of the movie,  were in France for a showing of the movie at a festival there.  He went on to tell us an interesting story of a couple from Belgium who were at the Pocono Daybreak club this morning to introduce the wife of the couple to someone who knew her grandfather when he was in Dingman's Ferry, PA many years ago thanks to some investigative work by her husband.   Walt then told of his time as advisor to clubs for the Formula Program and he proceeded to ask various members why they joined Easton Kiwanis, and more importantly why they stayed members.  He told of his experience joining the Easton Police force in 1973 and then becoming an investigator and juvenile officer in the 1980's.  He was first approached by member Skip Fairchild, then police chief, and then joined in July of 1989 because of the mutual work by both his work with the juvenile police office and Kiwanis's work with children. It was a good match!   We are still working with children, and Walt is a shining example of that work in his capacity as club advisor of all of our sponsored youth groups; and there may be more work in the future if our vision of establishing sponsored youth groups and a satellite club at the Boys and Girls Club comes to fruition.  He will need even more help, so keep that in mind when he asks for our assistance!
PS: The photo at the top of Vic Dennis and his look-a-like friend was posted on Facebook recently.