As President Bill was reading off the names of members having anniversaries and birthdays in July, in walked one of the "birthday boys" Nick Ciambrone so we all got to sing to Nick, and others.  Bill reported that he called Jim Masterson at his home in Florida to wish him a Happy 95thBirthday!  We then went on to talk about our meeting next week which will be at the Boys & Girls Club at 11AM when we will celebrate the groundbreaking for our 100thAnniversary Project; the Playground and Gardens!  We will have guests, speakers, the groundbreaking followed by a picnic lunch under a tent so it will go on shine or rain!  Be there by 11AM decked out in your Kiwanis best to celebrate the actual 100thBirthday of our Kiwanis Club.  Bill announced that we received a "Christmas in July" gift from the playground company for participating in the Legacy of Play online contest: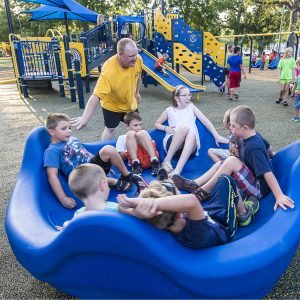 a $7000 Omni Spinner and he passed around a model that was sent to us.  Bill will have a financial report for us at the groundbreaking next week and Dean said that he is working on yet another possible donation from another foundation! All great news! Barb then introduced our speaker for today;
Mehmet Barzev who is a paramedic with the Easton Emergency squad.  Mehmet has 24 years of emergency medical experience; 19 as a paramedic.  He is also a fireman and the emergency medical coordinator for Stroudsburg where he lives.  He began his career by volunteering while in high school.  He told us that Easton Emergency Squad handles over 6500 calls per year and many of those calls are from people who are now using ambulances and emergency rooms as a convenience instead of calling a doctor for an appointment.  He talked of the large spike in opioid dependence and was glad to hear of our own opioid awareness campaign. States are implementing changes to help alleviate the opioid crisis including hospitals and pharmacies communicating with each other to try to prevent people from obtaining the medications from different doctors, hospitals and pharmacies.  Most ambulance squads are 501c3 but need professionals to man the stations and cannot rely just on volunteers.  To improve help, communities need to improve awareness.  People are now more informed as to how to recognize the symptoms of such things as strokes and hear attacks.  Ambulance squads will try to honor requests as to which hospital network to take you to if you are stable, but will take you to the closest facility where you will get the best care when necessary.  Some colleges and universities are now partnering with emergency squads by allowing students to volunteer in exchange for room and board instead of living on campus.  When asked the difference between an EMT and a paramedic the figures were staggering: An EMT receives 200 hours of training while a paramedic is required to have 2000 hours!
See you all at our 100thanniversary celebration and groundbreaking next week at the Boys and Girls Club at 11AM!