What a celebration we had today! Our Kiwanis Club's 100thbirthday and the groundbreaking of our 100thanniversary project: The Playground and Gardens project at the Boys and Girls Club of Easton.  Everyone who is anyone was there.  It was a great turnout for our actual 100thbirthday party; and what a party it was. President Bill started the festivities by presenting a check to the executive director of the Boys and Girls Club, Dean Young, for over $263,000, which represented the total raised thus far towards our goal of $290,000.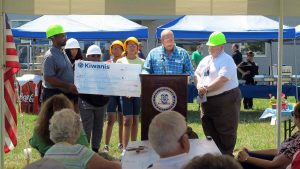 We were then presented with checks from the Kiwanis Children's Fund and from the PA Kiwanis Foundation, presented by their representative, Jeff Rose. Mayor Sal Panto from the city of Easton presented a proclamation declaring that today, July 18, 2018, is Easton Kiwanis Day in the city.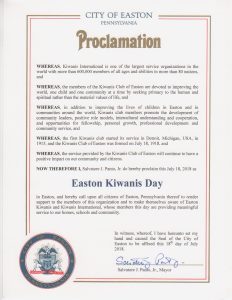 Several others spoke about the scope of the project and all were impressed by the amount that has been raised in less than a year!  Actually about 7 months.  Dean Young had a table of cactus plants decorated by the boys and girls at the club that were each labeled as a thank you to the donors who helped to make this project a reality.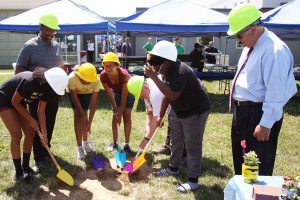 Then several of the boys and girls, along with President Bill, Mayor Panto and Dean Young, all donning hard hats, symbolically "broke the ground"for the celebratory project.  The turnout for the event included members of the Palmer Kiwanis Club, the Allentown Northeast Kiwanis Club, and the Lt. Gov. for Division 18 of Kiwanis along with representatives of the city, representative Marta Gabriel for US Senator Pat Toomey, state representative Lisa Boscola's office, Housing Authority, Boys & Girls Club Board, and many more.  Dean arranged for a wonderful picnic lunch for everyone, including many boys and girls, and of course, there was Birthday Cake for all!  And the weather was just as wonderful as the day! Now we move on to the next phase – the actual building of the project!  Can't wait to see the children at play and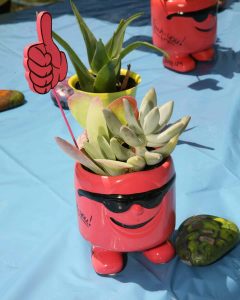 watching the plants grow!  (Cactus grows slowly.)