What a great turnout to hear one of our own as our speaker today; 19 members and guest Carolyn Conners.  Walt let us know that there is a change of principals at the March school and we don't know how that might affect our K-Kids there but he is on top of it. Dean thanked everyone for the great 100thanniversary party and groundbreaking 2 weeks ago at the Boys & Girls Club of Easton.  It was a great event that everyone including the children at the B & G Club enjoyed. It's Rose Sale time!  More after the District Convention next week. We will have an Applebee's pancake breakfast in November.  Pres. Bill brought up the possibility of eliminating the 4thWednesday morning meeting.  It will be decided by the next year's board. It would be replaced by a regular noon meeting. Bill reminded us that planning is beginning for the IU20 Kids Christmas Party: its right around the corner. Bill then passed around pictures of the signage that he has been working on diligently for the playground and gardens project.  He turned the meeting over to Skip who began by recognizing the efforts of our President who has spearheaded our 100thanniversary project.  He introduced our speaker for today; our own member James Owen; a world traveler also known as the Terminator; Felonious Jim; Iron Butt James; and others.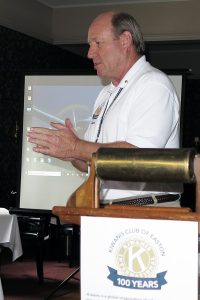 James has been a pilot for United Airlines since 1987 and flies the 777 as a senior line check pilot. Born in 1955, his father was an Air Force Intelligence officer who is now 87 years old and a dedicated Lions Club member and James' goal is to fill his father's shoes.  James joined the Air Force ROTC at the Univ. of Colorado where he grew up; then joined the Air Force and began working for Continental which merged with United in 1987. He has flown 727's for Japan Airways and then Air Micronesia.  Since 1995 he flies out of Newark so he moved to PA 20 years ago to minimize his commute. His partner Janet showed him the "Kiwanis way" to give back to the community.  He is on call today but tomorrow will fly to New Delhi.  On long flights there are 2 relief pilots who sleep in bunks behind the cockpit.  Each shift is about 8 hours of flying.  His talk today was really about the HIMS (Human Intervention Motivational Studies) program for pilots who become addicted to alcohol or drugs.  He is a "peer pilot" who works with those who are addicted to get them the help they need to overcome their addiction. Despite the help available, addicts are deniers and are rarely self-identified but are reported by others who notice their behavior.  Intervention results in testing, referrals and a diagnosis. 
They typically spend at least 12-18 months out of the cockpit. Treatments include at least 30 days at a treatment center and then very rigorous base monitoring including monthly meetings, 5-7 times a week AA meetings, 12 steps work, weekly check ins with their peer pilot, twice daily sober blows, and random drug testing 24 times a year.  To get back to work can take 12-18 months or more for one who embraces the program. They receive a special issue medical certificate that must be renewed every 6 months as well as an annual visit with a psychiatrist and they are monitored for 3-5 years.  Other countries do not have such programs and pilots would be fired and probably jailed.