We had 17 members, 2 speakers, and 1 guest in attendance for today's meeting. Vic brought his friend Dick Cramer, the unofficial mayor of Nazareth as his guest.  So, of course, we had to sing to him!  Pres. Bill called Neil and Skip to the podium to present them with the PA Kiwanis Governor's pin for the next Kiwanis year.  James and Janet reported on their first PA District Convention, also now known as "DCON".  They enjoyed the presenters, especially the final speaker, Al Condeluci, PhD who spoke on developmental disabilities, and Bill Isler, the former president and CEO of the Fred Rogers Company.  They did report that there was too much food available, though!  Walt reported that he met with the new principal who is on board with our K-Kids so it looks like we will have our 4 K-Kids and 1 Builders Club again this year.  Great job, Walt!  Pres. Bill announced that we were again a distinguished club for 2016-2017, and Walt is distinguished Kiwanian for 4 years and Bill is distinguished for 6 years. James reported that the executive board of the Opioid Awareness task force will been Thursday for lunch and the entire committee will meet as scheduled on Monday, Aug. 20.  They will have a presence at the Palmer Community Days this weekend at Fairview Park.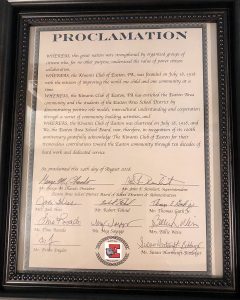 Pres. Bill read a proclamation that was presented to the club at Tuesday evening's Easton Area School Board meeting in recognition of our Easton Kiwanis Club's 100thanniversary and also to recognize all the good works that the club has done especially for the children of the school district in those 100 years.  Barb reminded everyone that it is ROSE SALE TIME!  She and Janet will be accepting your orders and money until Sept. 26. Skip then introduced our speakers for today;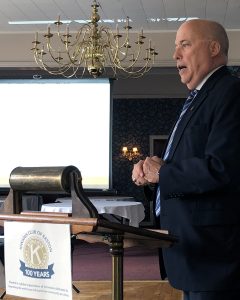 Judge Craig A. Dally and his law clerk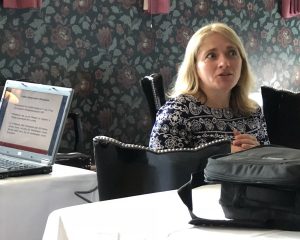 Stephanie Spensor who is a Problem Solving Drug Coach.  Judge Dally served 7 terms in the PA House of Representatives and now runs the Northampton County Mental and Drug problem solving courts which was started in 2014 and was the 100thto be established in the state.  Problem solving courts began in Dade County FL in 1989. PA now has 129 problem-solving courts which include mental health and drug courts.  They practice "restorative justice" which is less adversarial and uses collaborative and treatment driven practices to address the underlying health and welfare issues.  There has been a reduction in recidivision rates and has better individual and community outcomes at a reduction in costs to the county.  The program is 18-24 months long and consists of 5 phases; each with a goal.  The drug court provides several sources for support.  The drug court team consists of the Drug Court judge, a special probation officer, a case manager, and a certified recovery specialist.  There are currently 57 participants in the program with 75% male; 25% female and the average age is 30.  They have had 15 alumni so far and they are called alumni instead of graduates.