Great turnout for today's meeting as we were going on a field-trip after lunch. Bill changed the opening slightly and read an inspirational moment from Henry David Thoreau about "doing service for mankind" which is what Kiwanis is all about. Watson hart brought along his wife Babette for the field-trip. Janet's comments about the Rose Sale: SELL, SELL, SELL. Dues are due and by now everyone either received a mailed copy, hand delivered copy or it was emailed. If you don't have yours let me know. Last call if you want an Easton Kiwanis shirt: get in contact with me ASAP. James reported on the Easton Opioid Area Task Force: Monday we held the "task force" monthly meeting and a good showing of people was represented; and last week we had a tent and table at the Palmer Days event. It provided plenty of public exposure and there will be another public showing at Forks Days in September. Walt is waiting to hear back from the principal @ Paxinosa School as to the viability of the K-Kids. Walt also reported that the 4thAnnual Easton Firefighters Motorcycle Run will be this Sunday Aug 26 starting from 3rd& Northampton Sts. in Easton. The proceeds will benefit the Kiwanis Club of Easton and participants end up at the Clam Jam in Easton. There may be a possibility that the officer installation for our club on October 26thcould be moved to an evening event. I will know more in the next week-10 days and will provide plenty of information about it. Also, beginning October all meetings will be at the Pomfret Club at noon on Wednesdays. We will utilize the last Wednesday of the month to be the board meeting. And if there is time permitting at those meetings it will be a round-table discussion and/or we may get into doing some small hands-on projects on that day. Skip provided todays road-trip around the corner and across the street to the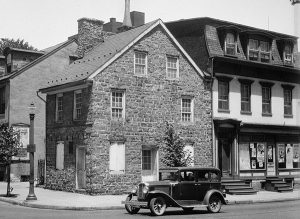 Parsons -Taylor House, 4th& Ferry Sts. Now owned since 1906 by the George Taylor Chapter of the Daughters of the American Revolution. Originally built between 1753-1757 by William Parsons, the former Surveyor General of PA. He was the agent of Thomas Penn. When in 1752 he laid out the site this established the city as the seat of the government of Northampton County. Parsons was the Justice of the Peace and School Commissioner and dies in 1757. Along came George Taylor in 1780, a pioneer and industrialist and civic leader who took up residency. He was a delegate to the Second Continental Congress and was one of the signers of the Declaration of Independence.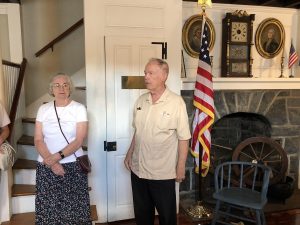 The interior features a three-part circular stairway that connects the four levels of the home and I being of my sound mind and large feet decided not to navigate any of the various staircases.