Wednesday October 24th will be a very special moment in Easton Kiwanis History. We held our installation of officers and inducted a new member but with a special twist. In past months Kiwanis International Trustee Charles "Chuck" Gugliuzza had been planning on coming to visit family as he is an Easton native but living in Florida. And he wanted to also surprise one of our newest members, Janet Morgan,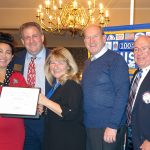 who herself moved from Florida a couple of years ago. Janet and Chuck were Kiwanis friend in Florida. Along the way Pa. PA Kiwanis Governor Cathy Szymanski, who is also a friend of Chucks asked to come to the meeting when Chuck would be here. So a plan was organized to have members be expecting Cathy to attend our installation meeting, being held as a dinner, so that Cathy would have time to drive here from Erie, PA. Cathy agreed to to the installation of officers & directors.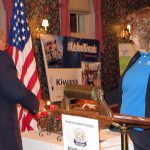 And was we were inducting a new member that same night, current PA Kiwanis Governor Phil Weber agreed to attend and do the induction.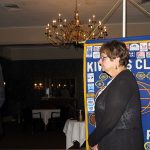 Behind the scenes the rest of the plan was in progress to actually have International Trustee Chuck do the installation of Janet Morgan incoming Vice-president. And Janet's former Tallahassee Kiwanis members wanted to present a Kiwanis Zeller to Janet. At the last meeting of Easton Kiwanis' first century in September it was also agreed as the last item on the end of the century agenda was to pay the remainder of our pledge to the EliMiNaTe program bringing our total to $24,000 for our Model Club status.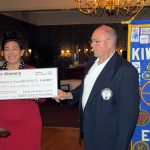 The word was spread throughout the Kiwanis community with some secret knowledge of the International Trustee's visit and several neighboring Kiwanis clubs had members in attendance along with Kevin Thomas, Executive Director of PA Kiwanis. The "dignitaries" almost outnumbered the actual club members. As it was an evening event many spouses attended. Needles to say Janet was surprised to be inducted by not only Past PA Governor Cathy Szymanski but also her Florida friend International Trustee Chuck. And then Chuck presented her with her Zeller from Florida. Then Walter Howell from Easton Kiwanis presented the remaining check of $3920 bringing our total to the ElimiNaTe project to $24,000 as our commitment to being a Kiwanis Model Club. And Chuck had a surprise for outgoing president Bill Walters: the Gugliuzza's presented Easton Kiwanis with a nice personal check to be used equally for the playground/gardens project and the Easton Opioid Awareness Task Force. Incoming president Neil Gallagher presented outgoing president Bill with a Kiwanis clock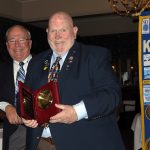 as a gift for serving as Kiwanis president.  George Peppard, AKA John "Hannibal" Smith of the "A" TEAM tv show would say, "I love it when a plan comes together."