"Road Trip Meetings' are great but this week's meeting is the greatest. We got to travel to the Chrin Center in Palmer for the Annual Colonial Intermediate Unit #20 Kids Christmas Party. This year they had expected a much larger group of children than in past years and I believe we did have a larger than normal group. Club members solicitated all the major chain grocery stores in Northampton County and we received almost $800 in gift cards. Combined with candy from Just Born, chips from Utz and Barnum Animal Crackers from Nabisco I would say there was over $1000 in food items in their "Wegmans" goody bags. Add in the Disney book and teddy bear, those bags were full and heavy.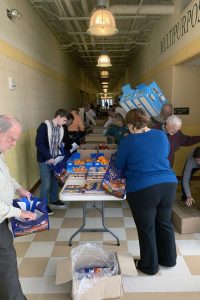 Tom Yurasists was there to provide his magic tricks and some of the children and a teacher were actually involved. The look on the teacher's face when his live rabbit sort of jumped at the teacher.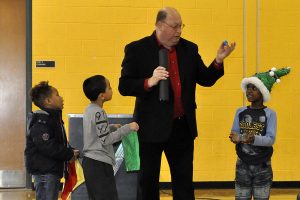 And then at the appointed time, Jingle Bells, of course, Santa arrived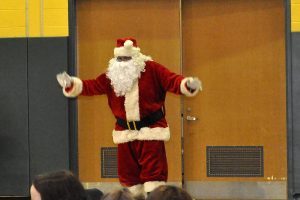 to the squeals and cries of laughter from the kids. Santa made his rounds to each and every child and then as they left to get back on their busses Kiwanis members, friends, our grandsons, got to hand each child a nice, full, goody bag.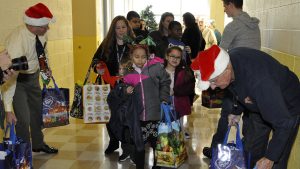 I have it on good authority that this may be the location for next year's party and there may even be some new changes for the 2019 event. Stay tuned. Easton Kiwanian's can now begin their Christmas season as for us the IUI20 party IS THE BEGINNING OF THE SEASON AND THE REASON FOR THE SEASON.
We had great coverage from Lehigh Valley Live-EXPRESS TIMES and WFMZ had 3 video clips on TV.