Pres. Neil introduced our favorite travelling guest Kiwanian couple: Ed Deering from Ohio and Florida along with his chauffer and daughter from Belvidere. When passing thru from FL to OH he always comes to our club. At 94ish Ed told me he's about to join his 3rdKiwanis Club, the Ohio Internet Club. We celebrated 3 Dec. Kiwanis birthdays and all 3 members were present. Walt brought us to date on our Sponsored Youth Clubs and their upcoming meetings. Bill gave us a full financial report on our very recent IU20 Kids Christmas Party. $775 was donated in gift cards from local grocery chains. $711 was spent purchasing food items. We paid for the books, teddy bears, lunch and the magician and with member sponsorships and lunch donations we were still about $800 short so Charlie stepped up with a BIG donation to cover the difference. Thank you, Charlie.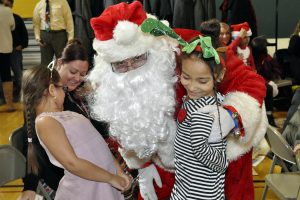 The new venue was excellent for space. Originally the IU20 asked us to cover 148 children but it would appear that 1 or 2 classes never arrived so the IU20 took 20+ of the extra bags and was going to see they got to the classes. The other 20 bags went to the Third St. Alliance.
Next Neil gave a short introduction of our speaker: Ryan Sarver, MD, St Lukes Sacred Heart hospital. Ryan asked what our Easton Opioid Awareness Task Force was about and he is interested to helping in any way that we can use his support. He presented a new and scary report that more people are now dying from drug/opioid overdoses than from automobile deaths. He explained that many drug users attempting rehab may actually experience 10 or more relapses before they gain control over their own body.  He agreed with our EOATF findings and experienced: the public does not seem to "care" if the problem is not affecting them directly. He is glad our Task Force is attempting to continue to educate everyone. He brought us a real Naloxone injection pen,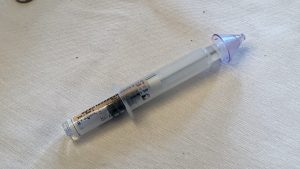 used to counteract the effect of opioid and other drug overdoses. He demonstrated how it can be used wither with the needle that come with it for an injection into a person's body or how to slip on the nasal "cap" and spray into a person's nostril. St Lukes Sacred Heart is providing the package of Naloxone for free just for asking. In fact, he had a few samples that he provided. There is no "harm" in spraying it into someone's nostril if they are passed out from something other than a drug overdose. There are no ill effects from this medicine. The purpose is to immediately counteract the effect on the body from the opioids. Sometimes a person even needs more than one dose to counteract drugs. The scariest thing about opiate overdoses is that the opioid depresses your desire to breathe. We also learned that drug overdoses normally do not affect the use of the deceased person's organs if donated to save other lives.