Great turn out to start off the new 2019 year. Neil "welcomed" the newlyweds, Janet & James Owen. We now have 3 husband-wife "teams" in Easton Kiwanis.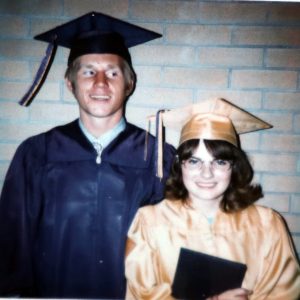 Janet & James were great friends in Lake County high school back in Leadville, Colorado, some 45-years ago. And 3 years ago fate brought them back together and now they are one together.
Walt gave us an SLP update: our Salvation Army Ding-A-Lings had help with some of the March K-Kids. James reminds us of the monthly Opioid Task Force meeting on Jan 21st, 6PM at the Boys & Girls Club. Janet presented Judith Dickerson from Easton's Cops 'n' Kids program. Judith is no stranger to Walter Howell and Easton Kiwanis. She reminded us that "Every child is a story yet to be told." And some history on Cops 'n' Kids: it's an international organization started 1997 in Racine, WI by Julia Witherspoon, a police officer whose parents would not allow her to have books as a small child. What she eventually learned is that some parents would hide books out of reach for small children because the parents themselves could not read. In 1997 she decided to make a change so that children could have books to read, anytime. Locally it began with the Easton Police Athletic League in 2011 and our community developing locations to house and distribute books and read to children. It's been determined that reading to children as soon as they are born and helping them hold books and turn pages as soon as possible develops not only literacy but fine motor skills are improved along with social conscientious. 60% of low-income children have no books in their own homes. And there are many issues with poor or low literacy not to mention lower wages, increased jail time and less social interaction. Judith has recently been able to provide books at several local barbershops for children to learn while waiting with parents. MISSION STATEMENT: It is the mission of Cops 'N Kids Reading Center to enable and empower all children to strive toward the fundamental successes in life – through recognition for the importance of reading. You can help by providing mot only donations but your time to volunteer at one of the reading rooms. Either ask Walter Howell how to help or check their Facebook or web page.