We finally got a meeting in since we had 2 weeks off for bad weather and we had a nice turnout today: thank you members. A board meeting preceded and we approved $250 to Family Connection for their annual Highmark Walkathon on June 1st; $500 to Recovery Revolution for their 9thAnnual Steps to Recovery event on April 13th; $600 to Greater YMCA of the LV for their S.T.E.A.M. program for kids at the summer camp. Janet reminded us the Applebbes Flapjack Fundraiser will be May 4th. Walt reminded us the Police Officer of the Year will be on May 15 and he also said the 2-$1500 C.I.T. scholarships will be awarded at the luncheon on May 8th, at CIT. Bill reported from Joanne that our Annual Super Raffle will be on June 12th. Bill also read the letter from PA Kiwanis Past Governor Judy Raub commending our club on becoming a Distinguished Club for 2017-18: note that was also our 100thyear-anniversary and he also noted that it was 62 years after his father was president in 1955 also a Distinguished Club that year. Nick reminded us of the Opioid Awareness Task Force's upcoming March 9thevent, "Keep Out Kids Safe-School Safety Forum" to be held at the new Easton Arts Academy and Easton Police Department on March 9thfrom 10AM-12:15PM.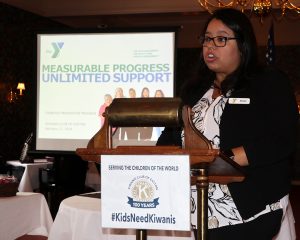 Today's speakers were Marabelle Tandazo and Kelly Gerhart from the Greater YMCA of the Lehigh Valley presenting a program from the Y's Healthy Living series: Redefine Your Health, Transform Your Life. It's a diabetes prevention program spanning a year with 25 classes of healthful learning for you to attend. You don't have to be a member of the Y. They had us doing a sit and stand and sit and stand exercise.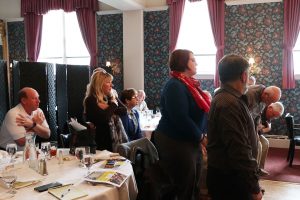 Some participated. Some of us didn't. 86 million Americans have pre-diabetes while 29 million have Type 2 diabetes. The annual cost is over $245Billion and it is the leading cause of kidney failure and many other disabilities. Over 200 of the Y's nationwide have started this program endorse by the C.D.C. Contact the Y for more information about classes.