Nice turnout in this cold weather, thank you for attending. Bill read some history found recently of the club dating back to 1926. He also provided a short message about the English language and the silent letter "H". Walt brought us up to speed on the various SLP youth Clubs at Easton schools. Neil and the nominating committee would like to know if you are interested in becoming a Board Member and they are looking for a Vice-president. (I hope they are also looking for a new secretary!!!!) Reminder that our Road Trip meeting on March 20thwill be to the "Someday Cafe"in Riegelsville, PA. More detail next week. Lunch will be a donation to a charity and the cost of the meal will be covered by Christina Kennedy. Nick reminded us of the Opioid Task Force event, a School Safety Forum this Saturday from 9-12 at the Easton Arts Academy: please try to attend all or part of the event.
Our speaker today was Dr. Brooke Tesché, Chancellor for Catholic Education, Diocese of Allentown and John Petruzzelli, Principal of the new Kolbe Academy.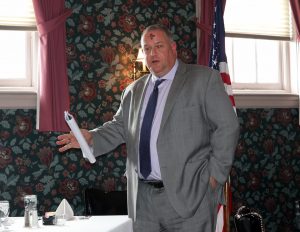 They were here to bring us the updated and great news about the soon-to-be open Kolbe Academy. Kolbe is a Catholic Recovery High School in Bethlehem located at the former School Sisters of St. Francis Academy, which had been a Catholic girl's school at one time. Students will earn their diploma in an environment designed for their success so that they can maintain recovery from drug and alcohol addiction and prepare for their future. Brooke has been involved in various forms of the education system and focused largely on special education. She realized that while there were programs available for special needs education there was nothing around here for students with addiction problems. She did her due-diligence and when she was ready she presented her ideas and plans to the new Bishop. Thus began the thoughts and ideas coming to fruition. The location was chosen as it somewhat centrally located in Northampton and Lehigh Counties as there are 15 potential school districts capable of providing students, as needed. It is planned to max out at 90-100 students. Of course the real plan is that it someday recovery schools will not be needed and they will gladly close the facility when that happens. Principal John comes from around the corner as he was the principal at Bethlehem Catholic High School, and he had a "rebuttal" story to Bill's story that had to do with the "silent T" in Boston Harbor. There are currently about 50 recovery high schools in the nation and there is only 1 in PA, near Philadelphia. Kolbe will be the first in the nation that is a Faith-based recovery high school. And students will receive daily education about various religions. A belief in any specific religion is not necessary to attend. The hope is that this faith-based system will become a model for the nation. The projected cost will be upwards to $20,000/year of education but compared to a month of rehabilitation costing more than that it is a much better way to handle the student. It will not be a boarding school and the students will return to their homes daily. BUT during the day they will not be influenced by the normal school stressors they come in contact with in their public education when they became addicted. There will be random drug testing of the students by a certified outside agency. Children deserve to "get better" and this is a positive way to accomplish that.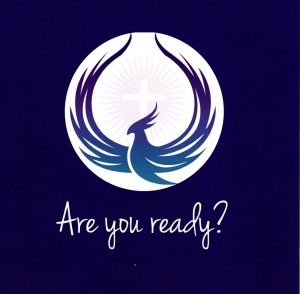 The symbol they chose for their logo is the Phoenix rising as it lends hope that it will be someday no longer be needed. The color purple is associated with recovery and St. Kolbe is the patron saint of addiction. Currently only 20% of the students that have been in an outside recovery program and returned to high school stay drug-alcohol free. While the statistics for students attending and graduating from the 50+ recovery high schools have an 85% success rate. Why not check out the Kolbe Academy yourself online: here's the webpage, and their Facebook page.