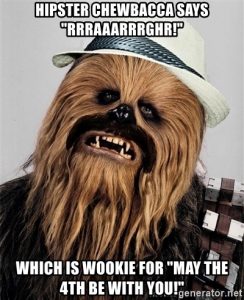 Nice turnout today. Janet reminded us of the Flapjack Fundraiser at Applebees on Saturday May 4. Hey, MAY THE FOURTH BE WITH YOU! Sorry to say, Chewbacca (R.I.P.) or his friends will not be there. Support our local K-Kids and Builders Club kids by showing up for a simple pancakes and sausage breakfast. 
Here is the report from the Nomination Committee: Skip Fairchild, President; Janet Owen, Pres-elect; VACANT-Vice-President; Gary Tempest, Treasurer; Bill Walters, Secretary; 3 openings on the Bod of Directors, James Owen, Joanne Cappellano, Ruthann Arras; remaining on the board are, Walt Howell, Sara Panovec. Thanks to Chris Paltz for his time on the board. We still need a Vice-president and the Annual Elections for the Club and Foundation will be held at the May 22ndmeeting. Speaking of the Foundation, as per President Ken Wildrick, Joanne Cappellano and Watson Hart have agreed to remain, should the club members elect them on May 22nd. I promise there will be no "hanging chads" on May 22nd. Joanne also reports only 17 Super Raffle tickets remain for the June 12thdrawing. What are you doing Friday night May 10 or Sat. afternoon May 11th? Why not join chorus members Barb & Sara at the Lehigh Valley Chorale's concert: Spirit Music From The Heart. Wesley United Methodist Church, 2540 Center St, Bethlehem, Friday 7:30PM or Sat. 2PM. What I heard from Barb the other night coming home from rehearsal, "Damn, we're good!" Why not come and find out. 

Janet introduced our speaker, Laura Cunningham. Laura not only represents RETREAT, but she is an associate member of the Easton Opioid Awareness Task Force. First Laura gave us her background with RALLY IN THE VALLEY happening on Sun. May 19 at ArtsQuest in Bethlehem. This will be the 3rdyear for the event which has grown and now will encompass 11 counties. And participation in the event is FREE. This is a free, sober event and ArtsQuest will have no alcohol available. Several speakers will present their story along 70+ various food vendors and music: lots of music including the PHILADELPHIA FUNK AUTHORITY which will present a new piece of music written especially for the event. Next we learned about Laura's background of how she got from Special Education background and training to being the Community Relations Representative for RETREAT Premier Addiction Treatment Centers. Located locally in a beautiful hillside location in Ephrata, Lancaster County, they have a CT facility and another facility in Palm Beach, FLA. They are capable of treating: PTSD, grief, mental health, drugs, alcohol and many other addictions for anyone 18 or older at their 175-bed facility. Laura explained about the RETREAT process of holistic approach to treating the various forms of addiction utilizing arts & crafts and music, recreational therapy and even equine support. RETREAT BEHAVIOUR HEALTH is the umbrella to treat the disease of addiction.