Well we had to relocate to the front library room at the Pomfret Club. They are doing major renovations to the ceiling in the main dining area. Since today we would normally have a Board Meeting, Janet brought us a request she just got from Kolbe Academy, the soon-to-open recovery high school. Kolbe is the first faith-based recovery school in America. Their grand opening and the first day of classes will be August 26 and they asked us to help with some of the opening day expenses. A motion was made and passed to provide $750 to Brooke Tesché, Chancellor of the Diocese of Allentown to help with the expenses.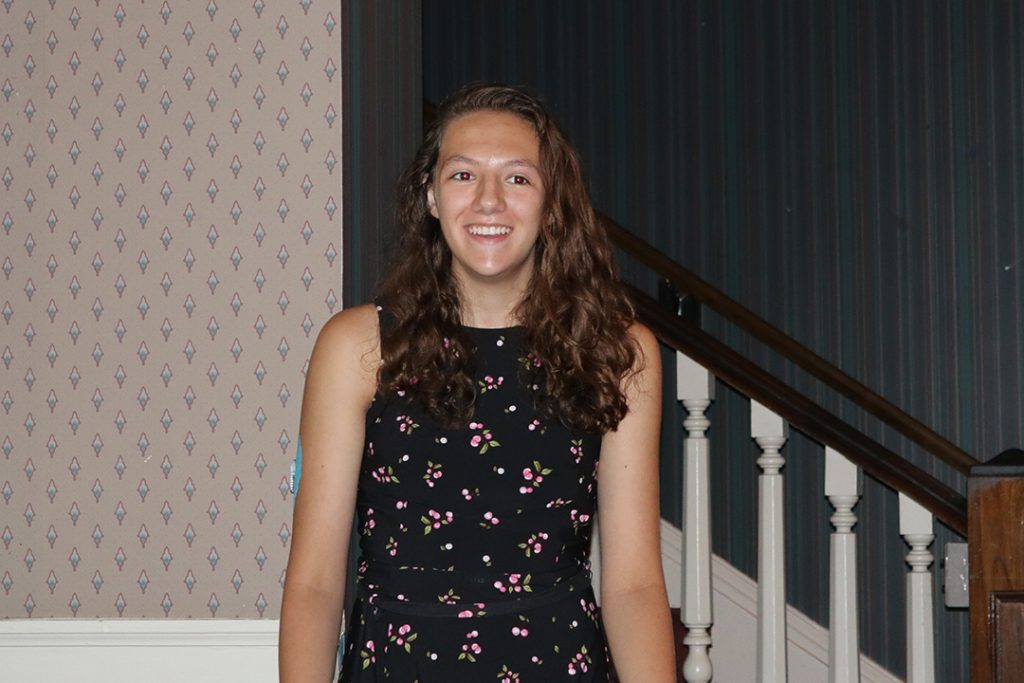 Now back to our weekly meeting. Pres. Neil and his wife Sue were glad to present their granddaughter to be our speaker this week. If you remember in past Septembers Neil would enter the Pittsburgh Tour de Cure in support of their granddaughter Colleen. Today we met her.
Colleen, age 14, reminded us she is a planner and hard worker, musician and an active athlete too. All this while learning at the age of 9 she had Type 1 Diabetes. Over 30 million children and adults in the USA have diabetes and over 400,000 live in western PA. It has not deterred her from activities. Colleen explained about she had to learn to check her blood sugar levels 5-6 times per day and prior to meals. She now has a constant meter device on her arm that even signals to her parents, and her grandparents' cell phone when her sugar level goes beyond accepted levels. She wears an automatic insulin pump except when bathing or swimming. Being from the Pittsburg area, she has been attending Camp Courage in western PA for 6 years now. All the campers and half the counselors have diabetes. The kids lead a pretty active camp life while they are there including swimming, dancing, zip line and Ga-Ga ball. (Google it yourself.) The Pittsburgh Tour de Curethis year will be September 14thand I'm sure Pres. Neil will ask for your support as he "walks" for the cure. Funds raised are used for research and to fund youth to attend Camp Courage. Last year some 40 children could not attend due to insufficient funds for them. So why not go to COLLEEN'S COOL CREW webpage and help her and others with a donation. Colleen's looking to raise $4000. In the past 5 years her "team" has raised $11,500. I am sure Kiwanis members can help her do it. By making a donation or joining her team, you will be helping the American Diabetes Association provide community-based education programs, protect the rights of people with diabetes and fund critical research for a cure. Kiwanis is about kids and this "walk" is also about kids.