We got reports just before the meeting that Pres. Neil is "flat on his back" and when his wife Sue arrived, she reminded us it is also their anniversary. We're all wishing you well soon Neil. So Skip was here to cover and it puts him back in practice, like he needs any, when he assumes the presidency later this month. Reminder form Bill: Dues-R-Due! Barb reminds us that its ROSE SALE time. Bill reported that he's already up to 43 dozen after one day of emails to prospective buyers. He even has a sale from Florida but we're delivering them locally. James brought us up to date on Easton Opioid Awareness Task Force upcoming events as September is National Recovery Month and the EOATF has plenty of events coming including Sat. Oct 19that Paxinosa School 8-noon. Sue Gallagher reminds us of the upcoming diabetes walk in Pittsburgh where their granddaughter, previously a speaker at one of our meetings, is one of the youth ambassadors for the event. Contact Sue or Neill if you want to financially support them as they themselves plan to be in the "walk" and could use your dollars for support. Janet introduced a prospective new member, Honor Garrett, a Certified Health Coach and Transformational Life Coach. Honor has to join us and if nothing else explain what all that means for us. Tentative good news from the Pomfret Club: we possibly will be in the renovated dining room next week.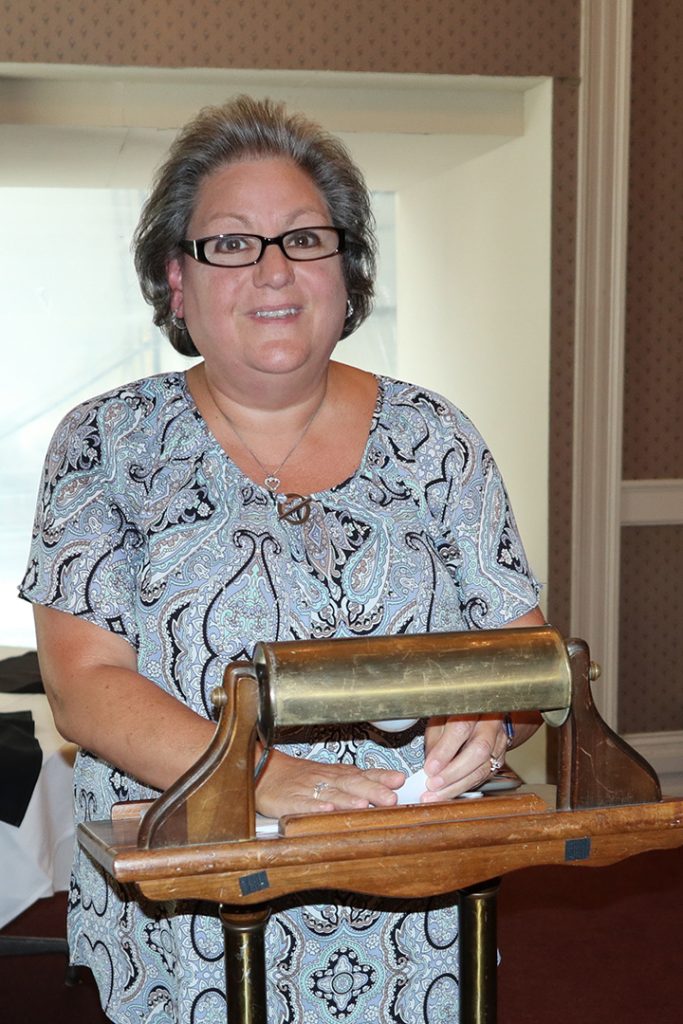 Janet then introduced someone who is well known to those of us on the Easton Opioid Awareness Task Force, Linda Johnson. Linda shared with us with great emotion her family's journey with her son's addiction problems. Linda has been with the EOATF since our beginning as actually one of our mentors. She is also on the board of the newly opened Kolbe Academy, the first faith-based recovery high school in the nation and Linda also serves on many other addiction related organizations. She has a full-time job with PNC and still found time to develop VOICES FOR CHANGE, a community group that has joined together to speak out about the disease of addiction. Linda's family's journey in the disease of addiction began some 8 years ago when their high school son began with drugs. She developed a fear of people knowing about her family's "stigma and shame" about her son's drug problems. In the past 8 years he graduated from Easton High School and has been in and out of 19 treatment centers around the east coast of the USA. If only then it is more like today. It's easier to face the world now since there is a public awareness of addiction. Science is learning more every day of how to treat the "disease addiction" but science does not know how to eliminate it with a "pill." Since pills are much of the reason it all started. Her son is sick, a person who is sick and just trying to get better. Addicts don't love themselves. The addicted child became a big family problem and has affected their family greatly. Linda explained about how she took on her sons struggles. Addiction is the scariest monster and the biggest "booboo" that can affect your child. Eventually Linda learned that she herself had to get better and realize that the addiction of her son was not the fault of his mother's neglect. She joined a parental/family support group for her own well-being. Her son is engaged, the father of a small child, and Linda realizes its "HIS" journey, not hers. Addiction is a family disease and the country need to better understand that. A disease that starts with a choice—a bad choice and a disease is why. Quoting Linda, "I live for today and I'm hopeful for tomorrow. Today I can make a difference."
FED UP! Lehigh Valley, this Sunday, Sept. 8, 2019 is INTERNATIONAL OVERDOSE AWARENESS DAY, and from 5:00 – 8:00 PM at Steelstacks, Bethlehem there will be music, speakers and a Candlelight Remembrance Vigil.