There's a new sheriff in town. More about that later. Today was installation of our new officers and board for the next Kiwanis year beginning October 1, 2019. Our soon-to-be approved "special" Lt. Governor, Enos Martin, was present to do the installation. Technically he is currently the Lt. Governor-elect until October 1st, but we're not sure what to "officially" call him after that since until PA Kiwanis changes its bylaws he not an "approved" Lt. Governor. The PA District By-laws need to be changed and they will. Enos is a 20-year Allentown Downtown Kiwanis member who is willing to be Lt. Governor but has never served as Club President or Club Secretary, but he has been Club Treasurer. Hence the bylaws are going to be changed adding Treasurer as an approved position prior to becoming a Lt. Governor. Nonetheless, WE WELCOME our Lt. Governor, Enos Martin.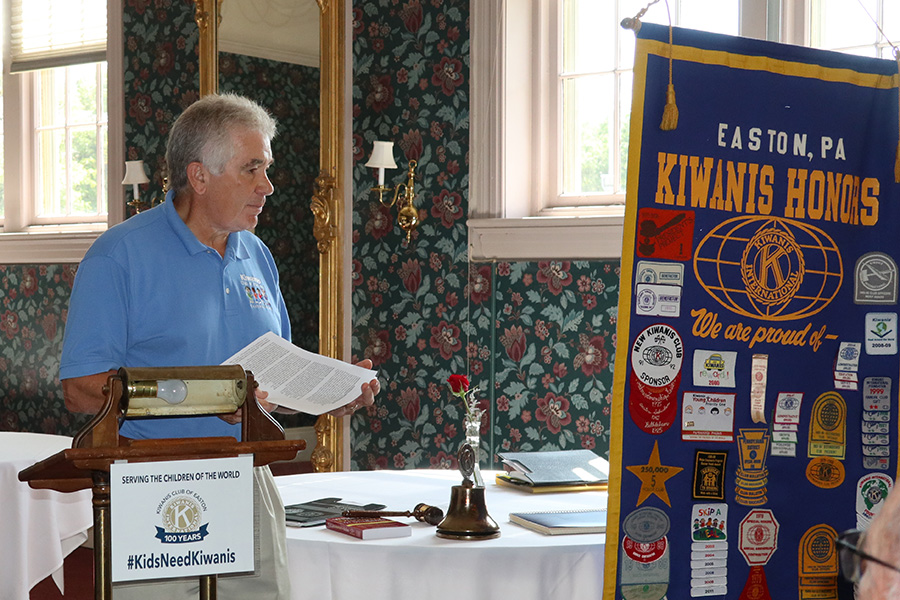 We had Palmer Kiwanis' President-elect Bob Moran attending today as a visitor taking voluminous and copious amounts of notes about "how it's done." Also visiting was a frequent visiting Kiwanian, 97-years young, 49-year Florida and Ohio Kiwanian, Ed Deering along with his daughter and grandson. And don't tell me you're too old to get involved in computers and the digital world as Ed is also a member of the Internet Kiwanis Club. Ed said, "If you're ever in St. Petersburg Florida, look him up in the phone book." You do know what a phone book is. Barb reminded us that the orders for Roses were due today and with an update since our meeting: we have ordered 210 dozen roses, the same as last year. YEAH! For your information we appear to possibly have 6 dozen extra to sell. Ken reminds us the next Foundation meeting will be after our October 9th meeting. Walt has received all the Sponsored Club membership kits and is awaiting their meetings to begin to deliver the kits. Barb also reminds us that we have 2 upcoming events with the Miracle League: Sat. morning October 12 we will again operate the food concession stand and Sat. October 19th in the evening we will be handing out snacks and "gifts" to about 300 Miracle League youth. Neil thanked us all for the support he and his granddaughter received for the Pittsburg Tour deforce Diabetes Walk. It appears that Colleens Cool Crew raised over $4600.
Lt. Governor Enos Martin next did the installation. Outgoing President Neil was recognized. Next the board members present were installed: Walt Howell, Joanne Cappellano and Sarah Panovec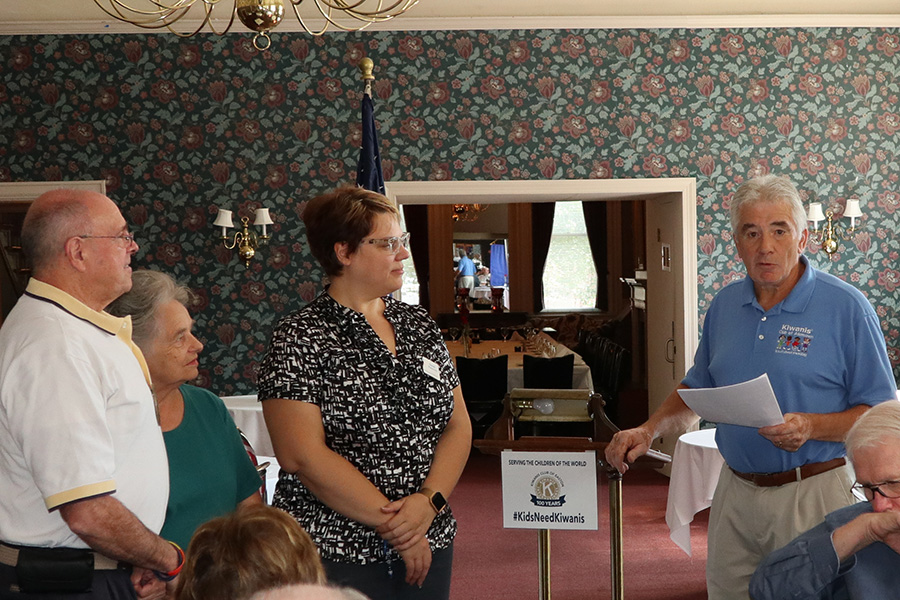 and the installation followed with Bill Walters being installed as "ongoing" Club Secretary along with Gary Tempest also installed as the "ongoing treasurer." And finally, "the new sheriff" was installed; Skip Fairchild is our new club president and he is a past Easton Police Chief among other previous career employments in the area, therefore he is duly qualified to be the New Sheriff. When James and Janet Owen return next week, Janet will receive her President-elect position and pin and James will be a new board member. Neil closed out his Kiwanis year with a round of thank-you's to officers, directors and club members.      
After the installation and general meeting we held our monthly board meeting. It was approved that Bill will develop a club banner for upcoming events. We approved a request for the Easton PAL for $270 for a "bounce house" to be used in conjunction with an event being held at the Boys & Girls Club for neighborhood youth. We also approved $1000 for the Easton PAL to purchase a "ShotSled" to be used with the PAL wrestling program. Some discussion followed with Walt bring us some news from the new advisor of the Cheston K-Kids. They have some interest in developing "Laundromat Libraries." Walt also suggested once the new Div. 17-18 begins to have Division Council Meetings could the Lehigh Valley Kiwanis Clubs consider developing a Lehigh Valley Aktion Kiwanis Club.