The Pomfret Club has us back in the "library" today with the "really BIG table" but we were able to fit 18 for the meal and 2 "stragglers" came in after the meal in time for the meeting so it was a full house.
We welcomed Chuck Gugliuzza to lunch with us as he was here from Florida to visit his mother since Chuck is a native Eastonian and graduate of Notre Dame HS. Chuck is a Kiwanis International Trustee and is an announced candidate for International Vice-president and we hope to elect him in June at the International Convention in Indianapolis.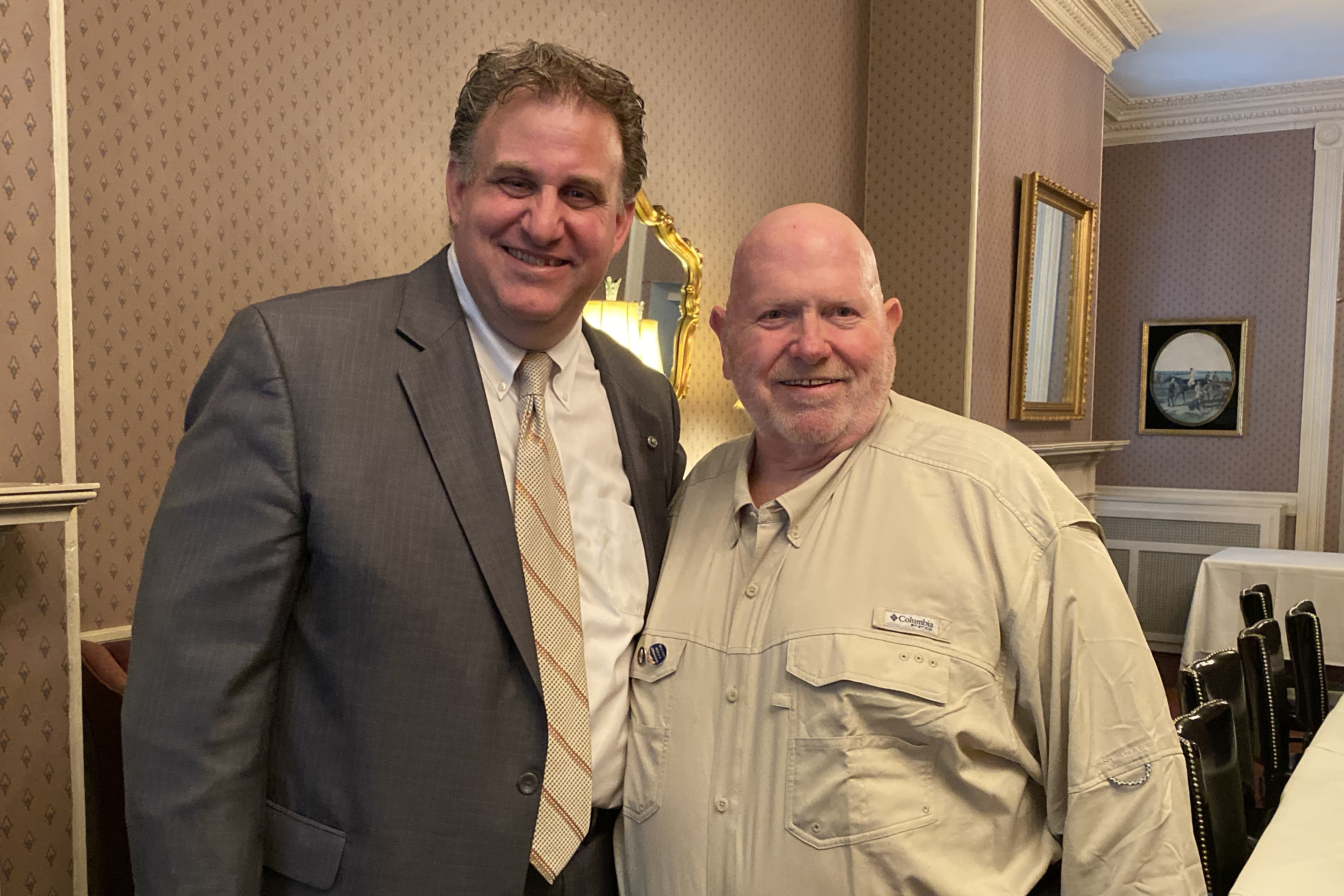 Barb remined us that next Thursday October 24th is rose delivery at the same location as always and it starts at 7AM for boxing and packing of the roses. The Fall Region 6 meeting is Saturday November 2nd in Stroudsburg from 9AM – 1:30 with continental breakfast and pizza lunch: the best part is there is no cost to attend and we would like our leadership team to make every effort to attend. President Skip is continuing to recommend members to choose a Wednesday meeting and tell us about "A (DAY/WEEK/YEAR) IN THE LIFE OF (YOUR CHOICE-JOB, HOBBY, ETC)". Give us some insight into yourself. Janet reminds us of the Easton Opioid Awareness Task Force SCHOOL SAFETY SEMINAR this Saturday October 19th at Paxinosa School, 12th & Northampton Sts. from 9AM thru noonish. And later we will be at the MIRACLE LEAGUE field later on October 19th for their Halloween Party providing a set of "UNITED PILOT WINGS' and BARNUM ANIMAL CRACKERS to the kids. This will be our KIWANIS ONE DAY event. Janet also reminds us of our November 16thPancake Fundraising Breakfast Fundraiser at Applebee's on Easton-Nazareth Highway. Janet prepared us for the program by describing her past weekend motorcycling event with husband James as an AWE weekend that started with the AWE of biking into New York City and then the AWE of entering Long Island with all its traffic and then again the AWE of the NYCity skyline when leaving Long Island to head towards Philadelphia and further the AWE of Wilmington and finally to Washington DC and the AWE of all the monuments there. But along the way there was the AWE of homelessness in both Philly and Wilmington. Janet reminded us that KIWANIS can inspire that same AWE in all of us. A few members were at the District Convention this summer to be re-energized and Janet felt it would be good for us all to participate in some of the "training" we received. A short video was presented called 'WHAT IF…."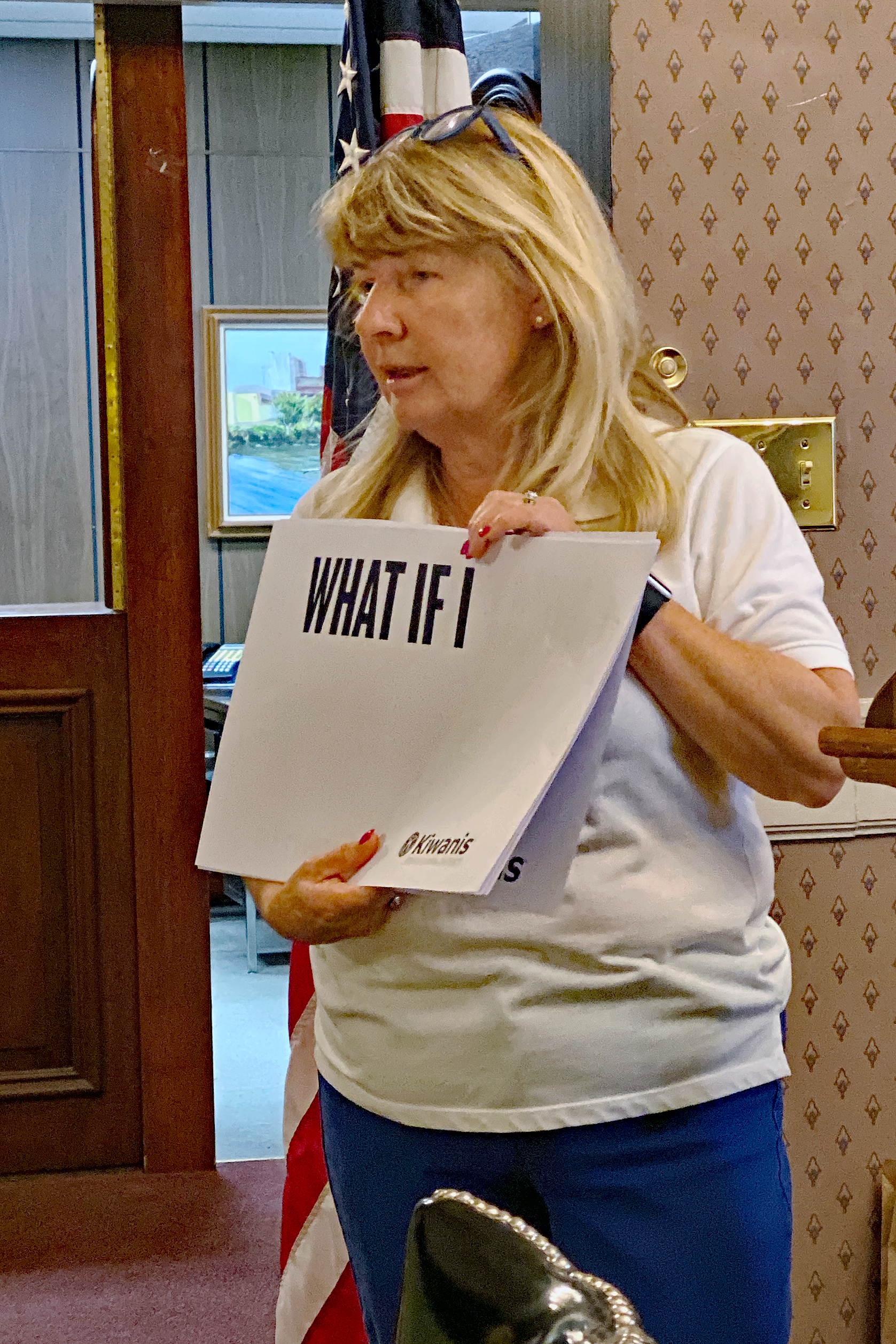 Janet spoke of the thoughts and ideas of finding new ideas of service to our community and increasing the YOUNG CHILDREN PRIORITY ONE efforts that our club currently provides. She handed out large WHAT IF I posters and asked us to complete them with our own thoughts and idea. Ideas about SIGNATURE PROJECTS such as the playground and the EOATF.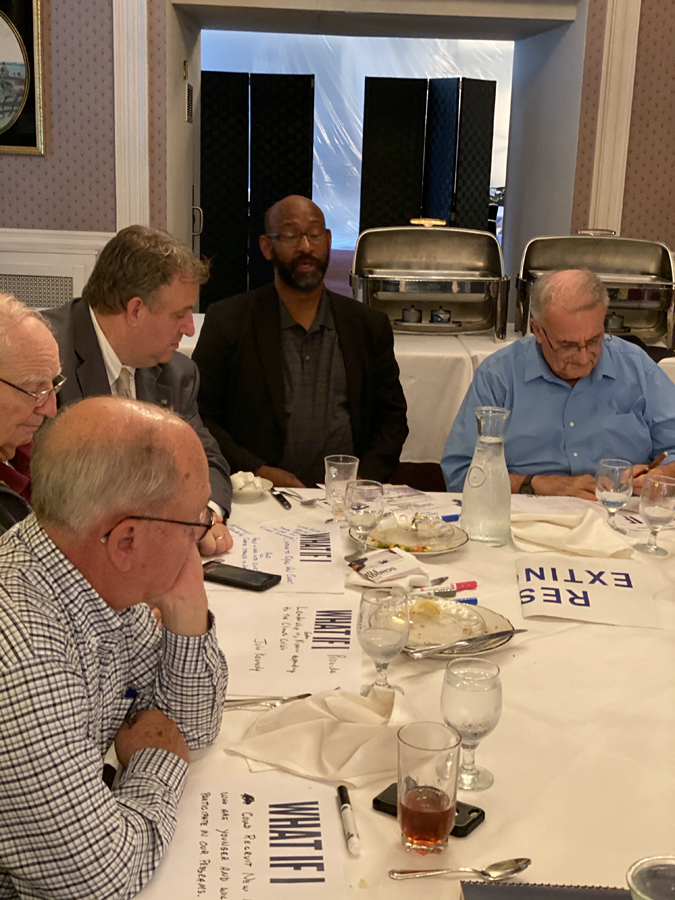 about increasing the service we do as Kiwanis members by joining with other Kiwanis clubs? It's not a competition between clubs but more of a collaboration so that more things can be done better. Roger Conners commented on the thoughts that for finding new members that maybe we are barking-up-the-wrong-tree as we have concentrated on local business members in downtown Easton. Maybe as Roger suggested we need to focus on retired people or housewives who would be willing to provide their time and talents for the needs of local children. Janet promises more about WHAT IF…… Stay tuned for next week.