We were in the coming-along-work-in-progress main dining room at the Pomfret Club. The newly renovated ceiling will look great when its done. Pres. Skip got the meeting off quickly and Janet introduced 3 potential members and she is pretty confident that 2 will become members in early November. Mary Ann West from Communities in School & Family Connections, Jan Schwartz who previously was a member from the YMCA is now with LV Chapter of NAEYC and Terry Thomas with the State of PA with the Early Childhood department. All are involved with young children and making them priority one. Walt recently met with 60 Shawnee K-Kids at their first meeting. Barb brought us up to speed on the rose delivery tomorrow at 1 Danforth Drive in Palmer Township and also reminded us about the upcoming interclub meeting for breakfast with Palmer Kiwanis on Nov. 27th instead of our lunch meeting that day before Thanksgiving. Bill reminded us of the upcoming Region 6 meeting on Sat. Nov. 2nd at the Monroe County Library in Stroudsburg: it's free starting at 9am and probably will be over by 1:15PM. Janet shared a nice thank-you letter from the Miracle League for our support of their Halloween party at the field. It was a fun filled evening. Just check the photos on the Facebook or webpage. Janet reminded us of the upcoming pancake fundraiser on Sat. Nov. 16th at Applebee's on Rt. 248. Promote and sell those tickets you all should have been given. James thanked all those who participated in the recent Easton Opioid Awareness Task Force public seminar held at the Paxinosa School Sat. Oct. 19. Bill reminded all to get out and ask those grocery stores for gift cards and get them back to him ASAP.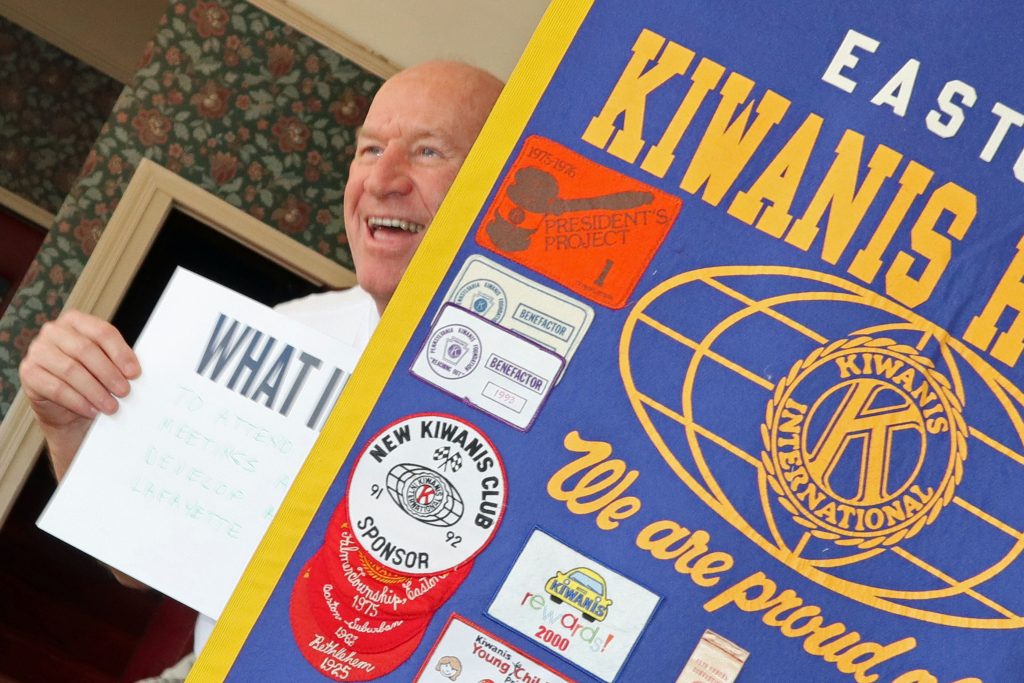 Last week Pres-elect Janet had us complete a rather large but important poster entitled WHAT IF I… Today many of us were asked to expound on what we wrote. Sarah wished for more small projects to serve children with more hands on and more direct impact for children; smaller commitments of time and ability from each member. Ken wished for more help with our SLPs and more help finding speakers programs. Neil wished for recruitment of new members. Sue wished for more hands-on small service projects especially in literacy with children. John wished for us to provide leadership in response to the climate crisis even maybe providing funds for say the Sigal Museum to go greener with solar panels as a way of being concerned about the climate effects on his grandchildren. Skip wished also for recruitment of new, younger members and the ability of more of us to read to young children and let them know they ARE important. Walt wished for an Aktion Club now that we have redefined the Division 17-18 as we have 8 total clubs with 6 of them in the Lehigh Valley. Barb wished for the club's history to be recorded and kept for the future and she also wished she had more salesmanship ability. Roger wished we could find a way to effectively connect with new members of our community especially those who are retired and are relocating to the area. James wishes he could be more interactive with the SLP clubs and even to start a Circle K at Lafayette College. Bill's wish echoed Walt's with the thoughts of an Aktion Club in the Valley along with finding a few smaller projects that we could create and develop and do well with. Janet's wish has to do with her many years in teaching young children, or what we have called for years in PA Kiwanis as YCPO    

     but one thing rang true with everyone's wishes: doing things for children and the community with more members of Easton Kiwanis.