The meeting began with a KIWANIS INFO MINUTE from Barb. January 21 was the 105th Kiwanis International Birthday. The original name of Kiwanis was BENEVOLENT ORDER of BROTHERS (AKA BOB) but quickly was renamed KIWANIS and the State of Michigan issued the original charter on Jan. 21, 1915. It was great that Nick brought a friend as a guest, and potential member: welcome to Henry Scherer, former owner of Edwin Stipe Co. We received a letter from Kiwanis that for the 2018-19 KI year under the leadership of Past President Neil Gallagher our club was one of only 11 in Pennsylvania District to be a DISTINGUISHED CLUB. A reminder that the Foundation will be meeting after our regular meeting next week and a reminder that next week's meeting will be a "special meeting" and board meeting: hoping that EVERYONE will attend. Easton Opioid Task Force update from James: there will be a public awareness event, probably at the State Theater on April 21st and thru the help from Palmer Kiwanis' Bill Tonkin a special guest will be Mariano Rivera, Hall of Fame retired relief picture of the New York Yankees. Tidbit of info on Manny Rivera: just 5 years after retiring from the Yankees he was elected by a 100% vote to the Hall of Fame: no one else was ever 100%. Skip and Walt spent some time with our new District Attorney Terry Houck and they are hoping the DA's office will become a new Easton Kiwanis Company member.
For our speaker today, Janet got to introduce someone very close to her: her husband United Airlines Captain James Owen.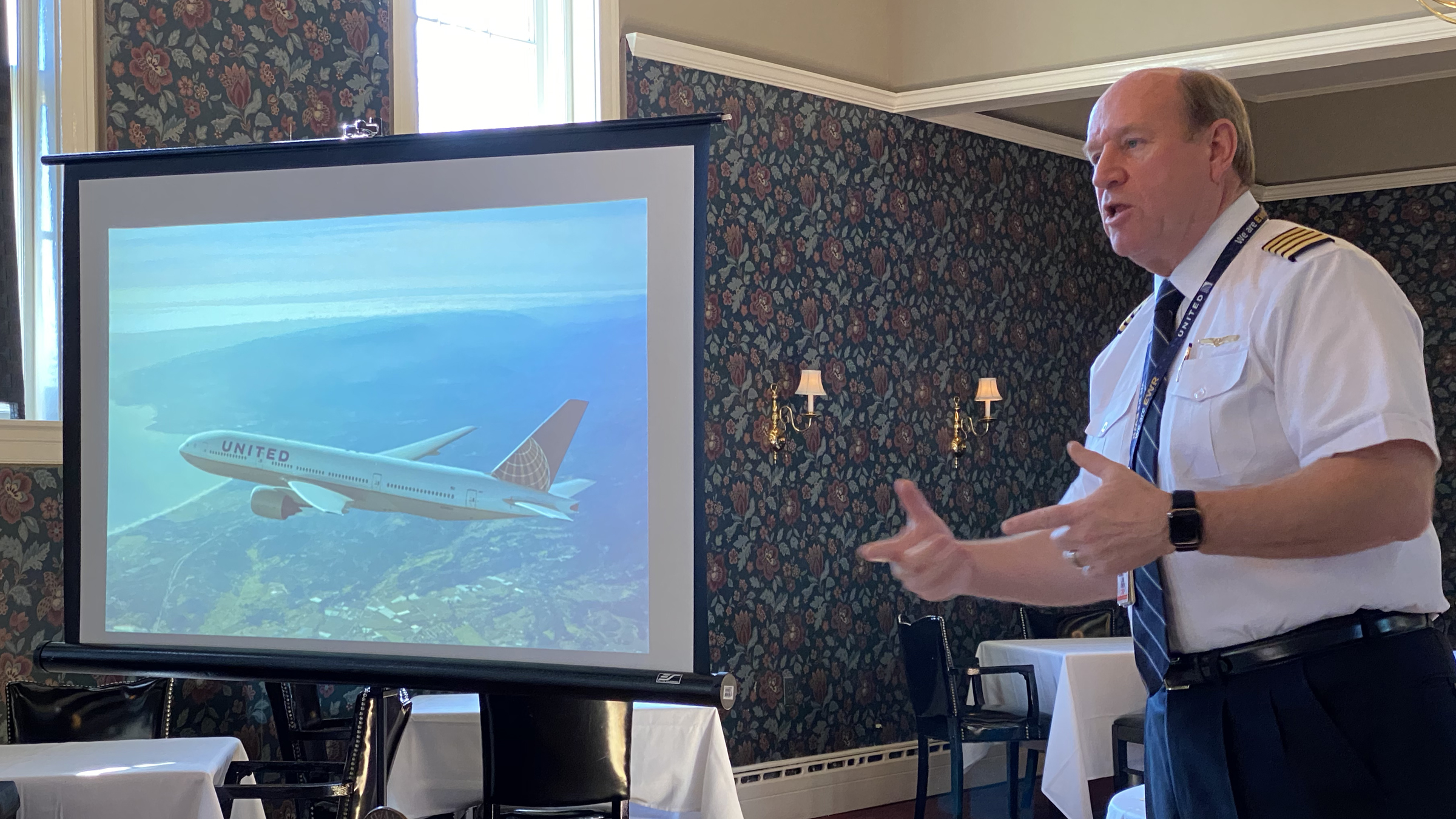 Later today James was scheduled to depart on another of his long-distance flights for United, Newark to Mumbai, India. James gave us his background growing up as to why he is now a pilot and why he loves being a pilot but it would appear that Jet-A fuel has replaced his blood. His flying began with college ROTC and the Air Force then to private companies in the USA and Japan and eventually to United Airlines in 1987. But todays presentation is about how James goes about preparing for a flight. Today's flight is to Mumbai, India from Newark, NJ. He showed us a flight planner that pilots use and statistics on the Boeing 777-300ER. The plane is a 350-max. seat (60 in United business class + 290 economy) capable of 557mph with 2 GE turbo engines rated at 115,300# of thrust EACH. The plane's wingspan is 212' 7" and the model, 300ER means Extended Range. His plane tonight will take off close to 775,000 pounds with full seats, baggage and fuel. Due to the time enroute there will be 2 sets of flying crews to allow for rest during the flight. The plane will have about 40,000 gal of jet fuel. They even analyze the fuel prior to being loaded to make sure it can handle the extremely cold weather since they will be flying a very northern route up close to the North Pole.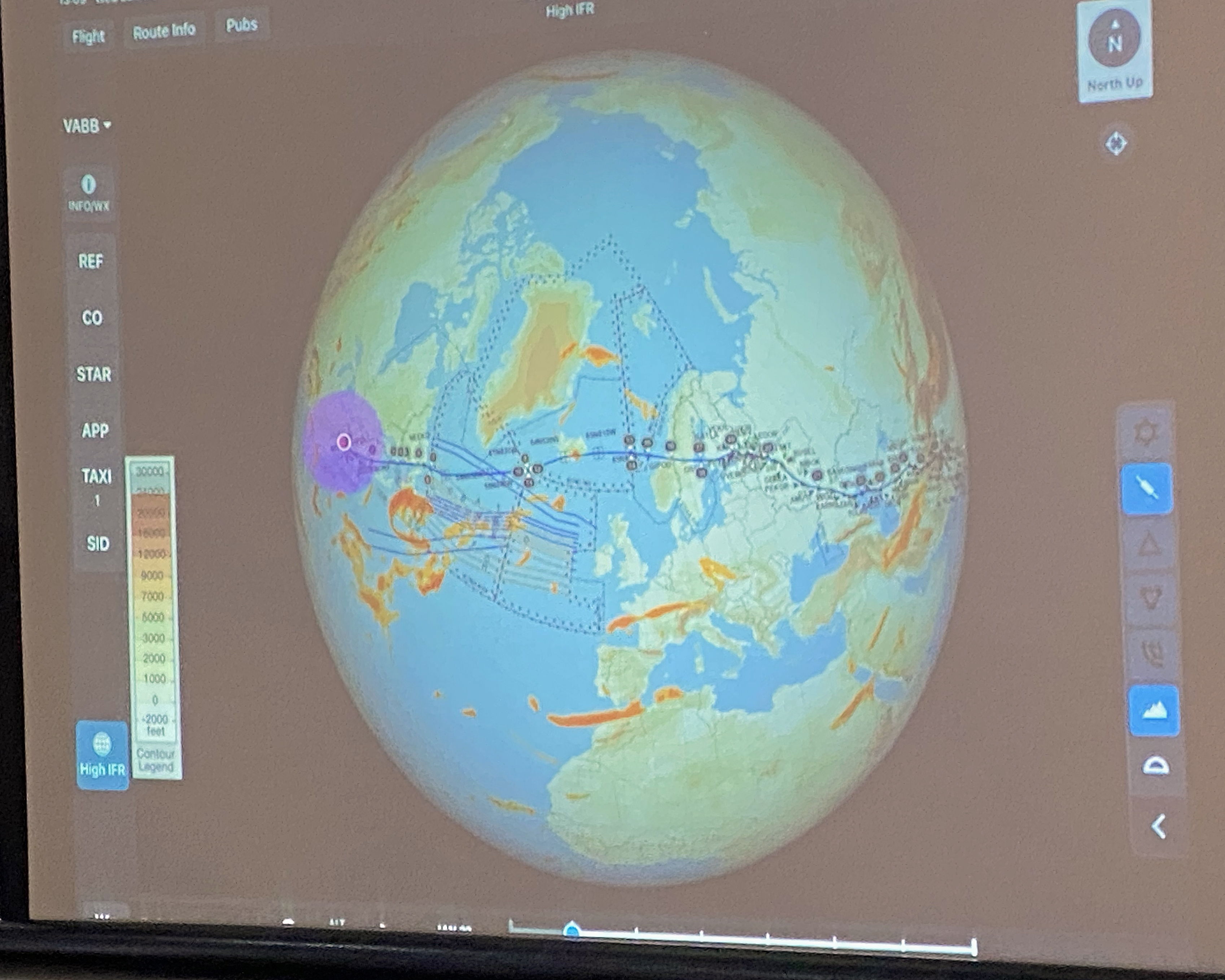 Not only are the pilots in communications with the various air traffic centers worldwide the airplane itself is constantly sending digital data back to United and Boeing about its operations alerting maintenance to any issues that may be developing while flying. This allows maintenance a "heads up" in advance of landing. James explained about the routing and showed us the planned route which will take them north of expected weather turbulence for a smooth ride for the passengers.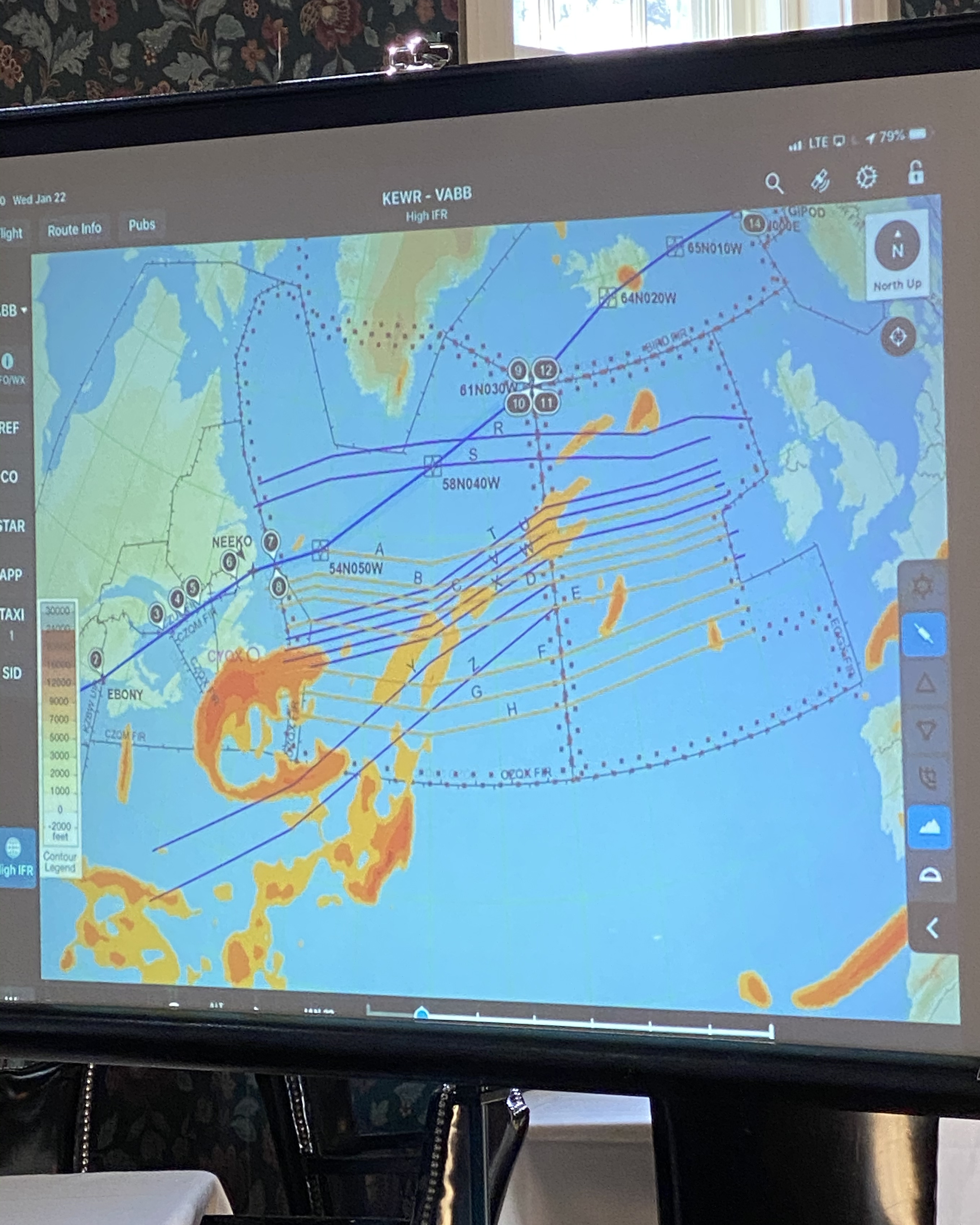 Then we learned about planning of the route and the various countries it was scheduled to fly over. And the concerns when they fly into the airspace of some geo-political countries.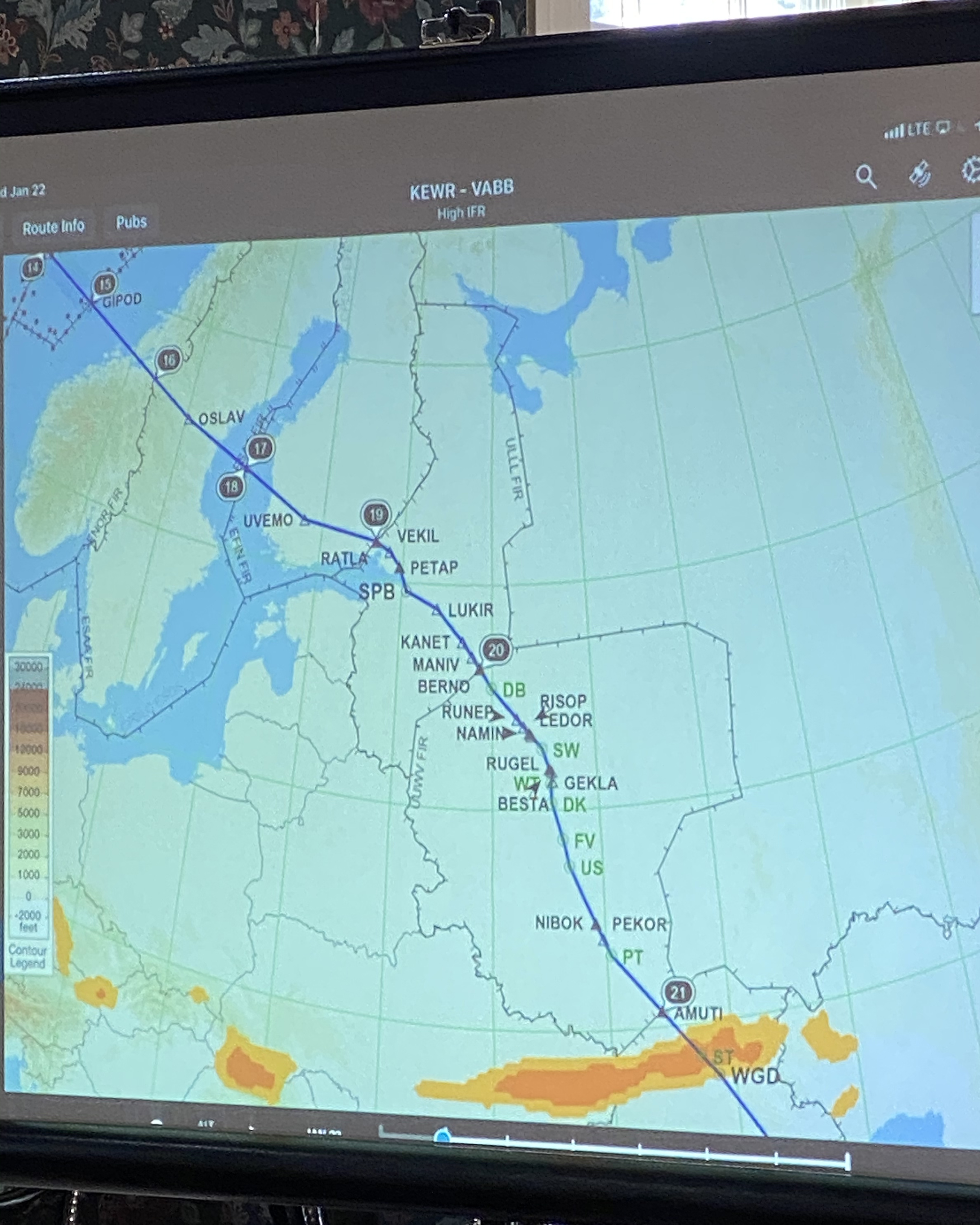 As per FAA regulations, the plane must be able to stay flying for a minimum of 15 minutes after the planned landing time but United adds an addition 60 minutes to that time which translates into more fuel being carried onboard. Then the planning must account for alternate airports for delays, or inflight mechanical/medical issues and concerns as to where to divert in an emergency if when over the Himalayan Mountains they lose cabin pressure and have to descend to 10,000 feet: the mountains are much higher than that. There are over 2500 flights today over the Atlantic Ocean. As the crew is arriving they go into a briefing session with James where he does sort of a "meet and greet" and discusses any known areas that might encounter turbulence and other concerns attempting to make the flight for the passengers as uneventful and as pleasant as possible. As I was writing this report on Thursday AM I was able to get the real-time flight information as-he-was-landing. Per data available to anyone on the web, his flight UAL48 left Gate C125 at Newark, NJ at 8:14PM 1/22/2020 on time, flying for 14hr 41min, arriving 19 minutes early at CHATRAPATI SHIVAJI INT'L AIRPORT (MUMBAI), India. The flight traveled some 8,246 miles and when he arrived the weather at Mumbai was 84 degrees with 54% humidity, wind 6knots with smoke present. Per the final map they flew further north over Europe, traveling above 30,000' for most of the flight at a speed a bit below 600mph. Now he has to wait a few days and do this in reverse, sort of to come home to Janet and his Kiwanis friends.