Pres. Skip opened the meeting with Barb's Inspiration Moment followed by Barb's Kiwanis History Lesson. She read an Easton Kiwanis newsletter (non-electronic) from a meeting in 1969-70 listing all the 30 various committees in our club at that time. We also had probably 70+ members at that time. There was even an Agricultural Committee but the one that we have no idea what it is was the "ODA" Committee. Rog Conners, do you remember since you were on that committee then. Ken is asking who would be interested in representing the club at the Lafayette College Scholarship dinner event on Feb. 28? If interested, contact Ken. Walt provided updates on our SLP clubs' meetings. Joanne thanked everyone for her "Big Surprise" last week. She said she was really shocked and surprised with the event. Update on Bill Fifield: he is home on hospice care and his birthday is Feb. 14th, Valentine's Day: send him cards ASAP. Bill explained about members and committee chairs reporting their monthly service hours to him each month. Nick gave a brief update on the Easton Opioid Task Force April 21st event at the State Theater. Neil said Sue is getting around with her new knee using only a cane. Bill reminded Pres. Skip to appoint a nominating committee for our Annual Meeting to be held sometime usually in May. A grant request was received from Cops'N'Kids asking for $1500 to support a literacy project at both the Paxinosa Elementary School and at the Salvation Army in Easton for about 150 children. Walt explained about the shortage of ESL books in the library for both locations. The vote of the 7 board members was unanimous to support the project.  Neil introduced Jennifer Curtis from the Colonial Intermediate Unit #20 who was our speaker. Jennifer is the Supervisor of Pupil Services and she not only gave an overview of the IU20 in general but she wanted us to know about the needs for and the purpose of an Educational Surrogate Parent.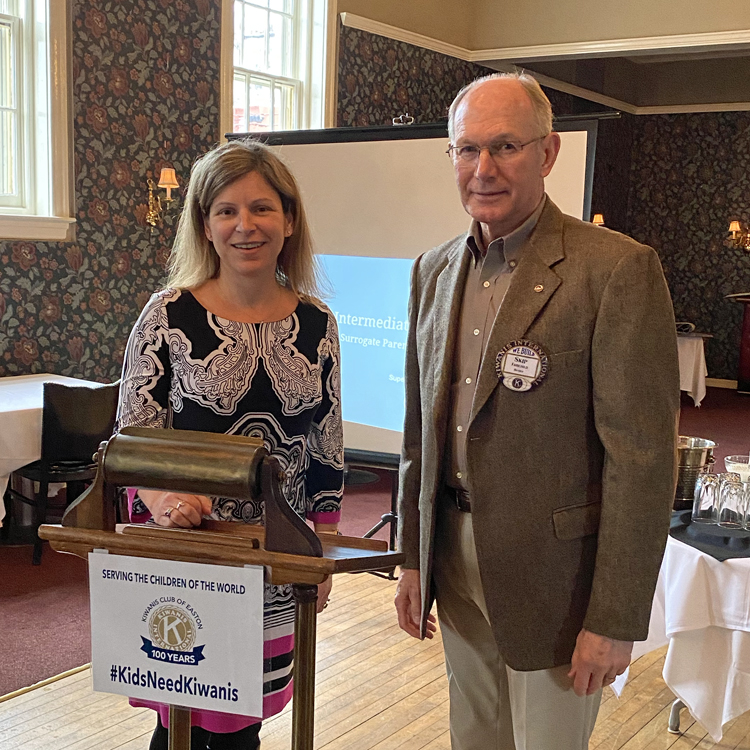 Jennifer attended our last 2 Christmas Party events and she wanted to seek us out and explain a program that our members and friends could help the IU20 with. The IU20 covers some 1200 square miles in Northampton-Monroe-Pike Counties, 13 school districts, has 1400 employees with a $226.6M budget, with 86,000 public school students served (that's 4.72% of the public-school students in the state of PA), over 9000 students are supported in various IU20 programs and the IU20 is the 8th largest IU by population served in PA. The IU also partners with 25 local businesses to provide employment training. But Jennifer's main role today was to explain the need and purpose of a SURROGATE PARENT. Basically, a surrogate parent has all the rights of a birth parent and has the duty to represent the child throughout the special education process. Many of the children supported by the IU20 do not have parents "involved with their children" and then a surrogate needs to represent them especially when the IU20 is going over the IEP (Individual Education Program) recommended for the student. The surrogate parent familiarizes themselves with the child's needs and educational history and participates in the development of the IEP. The IU20 is always looking for Surrogate Volunteers and if you think you or someone you know could help, please contact Jennifer Curtis at the IU20.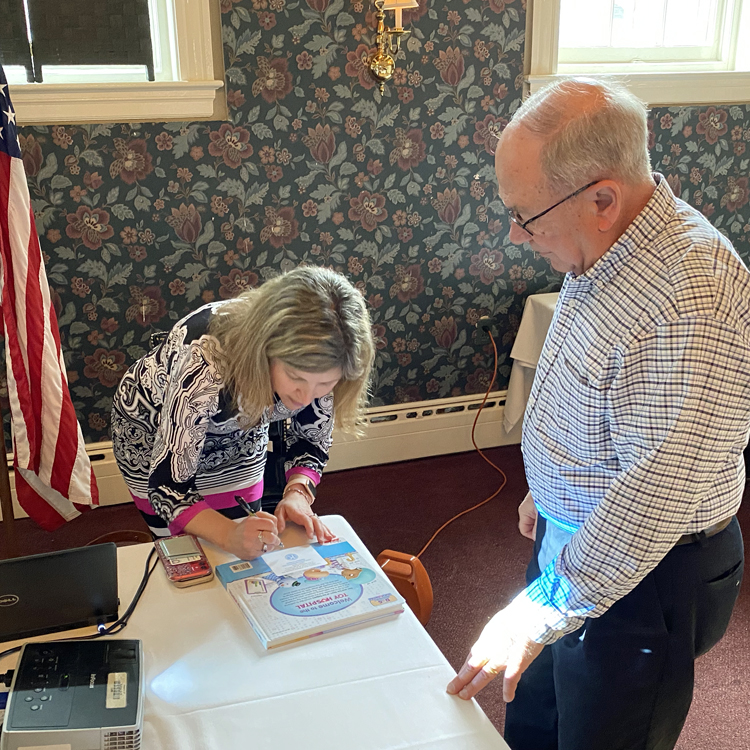 Jennifer signs a book to be given to a child.