Barb's Kiwanis History Minute was about Peanut Day 1977. Easton Kiwanis found some 30 underwriters to cover $600 for the cost of Peanut Day and then everyone made donations at the Kiwanis member street corner vendors to receive their "free peanuts." We had 2 guests today: Lois Wildrick and Judith Dickerson from Cops'n-Kids. Joanne has set June 10th as the Super Raffle date. Our next Flapjack Fundraiser at Applebees is Saturday April 18th. Pres. Skip read a thank-you card from Nancy Fifield thanking us for all the birthday cards Bill Fifield had received. Walt presented a $1500 check to Judith Dickerson for the Cops'n-Kids literacy book request.
They will be providing additional library books at Paxinosa School and at the Salvation Army to help with the "English as a Second Language" programs. Skip reminded us the nominating committee still needs a Pres-elect and a Vice-president for our Annual Meeting Election in May-June. If you are willing to accept either position, please contact Skip or Neil. Ken next introduced Professor Mary Armstrong,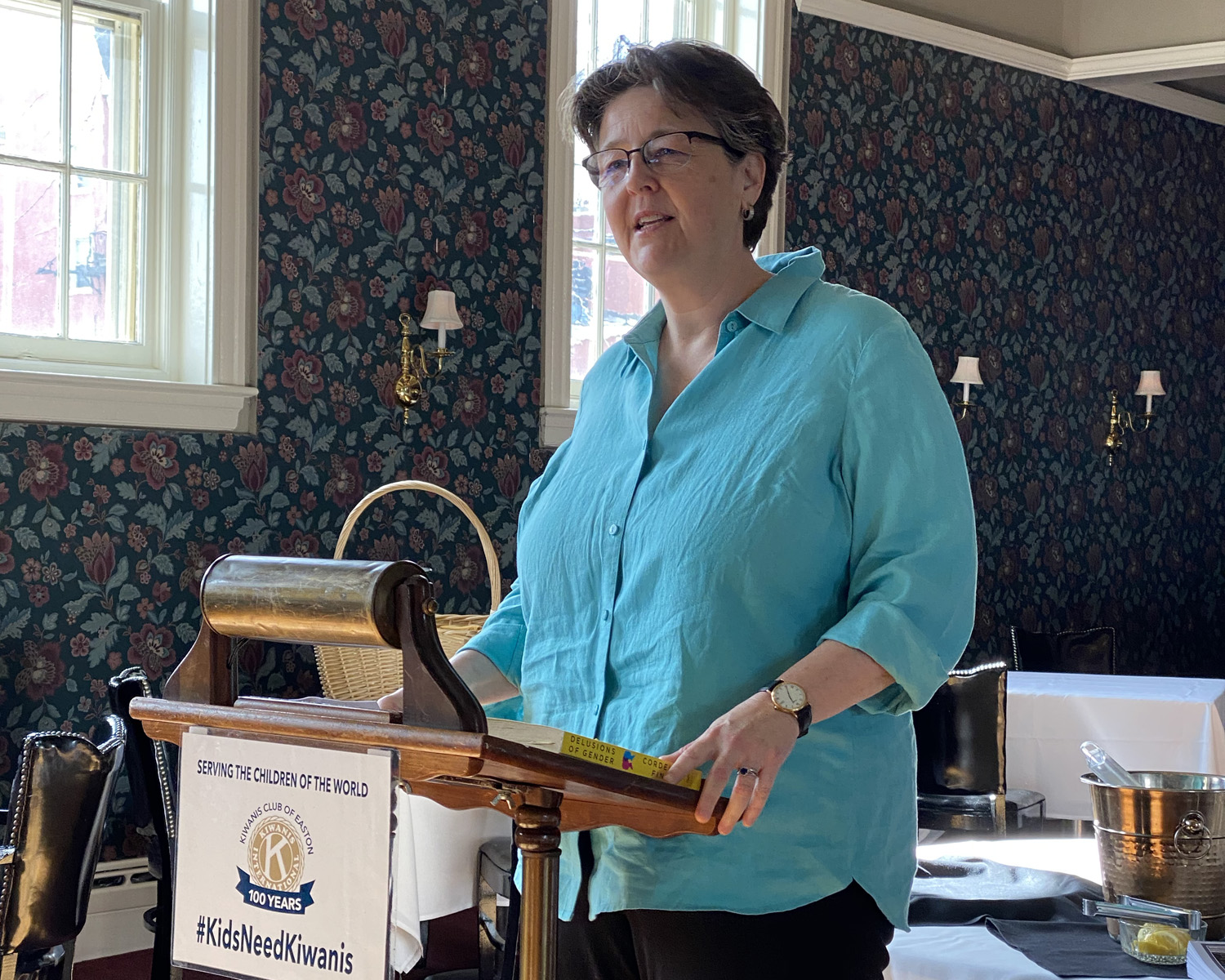 program chair at Lafayette of the Women's, Gender & Sexuality Studies academic program there. Mary has been in the Easton area some 10 years after moving here from the west coast although she is a native to upstate New York.  Gender studies programs began at colleges in the 1970's and in 2010 Lafayette hired her to start the program at Lafayette. She finds that most people don't want to talk about "gender studies" because most people don't understand the subject. While the gender is "assigned" at birth to the human body the visual accounting of gender has changed over generations. A quick example is women/girls now are accepted wearing pants vs. dresses/skirts in the past being the "norm" that was "assigned" to females. Roles, traditions have changed over time and different countries and cultures. It's about what is the current time and place. Gender is a very visual as to how we perceive and act upon seeing an individual on the street. Cognitive consistency in children and youth helps form them in early years. We would think nothing of seeing a woman wearing pants on the street but we would think very differently of a man wearing a skirt on the street. Everybody enforces gender as we all tease a man or woman who does not fit the appearance we expect of a man or woman. We all have gender forced upon us. An example is that men are usually associated with more valuable roles than women. Did you know more than half of all American girls go on a diet by the time they reach 8 years of age? You need to believe in yourself with confidence. Actually, we hold each other back because of gender roles. And men do actually attend classes and receive degrees in the Women's, Gender & Sexuality Studies programs at Lafayette.