Barb's Moment of Inspiration comes from the upcoming March 2nd birthday of Dr. Suess: "Life is too short to wake up in the morning with regrets. So, love the people who treat you right, forgive the ones who don't and believe that everything happens for a reason. If you get the chance, take it.  If it changes your life, let it. Nobody said it would be easy; they just promised it would be worth it." We Kiwanians know and understand that hopefully Kiwanis membership changes your life, for the better. And Barb's Kiwanis history lesson informs us that Easton Kiwanis was way ahead of its time. Back in 1973 our club under the leadership of Chief Levin, Easton Merchant, was in the "recycling business." We were collecting newspapers and magazines once a month with various drop off locations and working with Easton Iron & Metal. During a 16-month collection time we saved some 1955 tress by collecting 115 tons. Barb introduced a guest: our neighbor, Barbara Gilchrist, wife of our speaker. Pres. Skip read an email that went out to PA Kiwanis Clubs about the recent Signature Project Contest. 12 clubs entered it. There were 2 divisions: below 27 members or above. Easton Kiwanis received 3rd place in the 27+ membership for the Annual IU20 Kids Christmas Party. Skip also read a "thank you" letter from the Kiwanis Children's Foundation for our $430 Annual Gift. Bill mentioned the passing of 96-year old Dapper Dan the Clown who was for many years our "clown" for the IU20 Kids Party. Bill then introduced Martin "Marty" Gilchrist.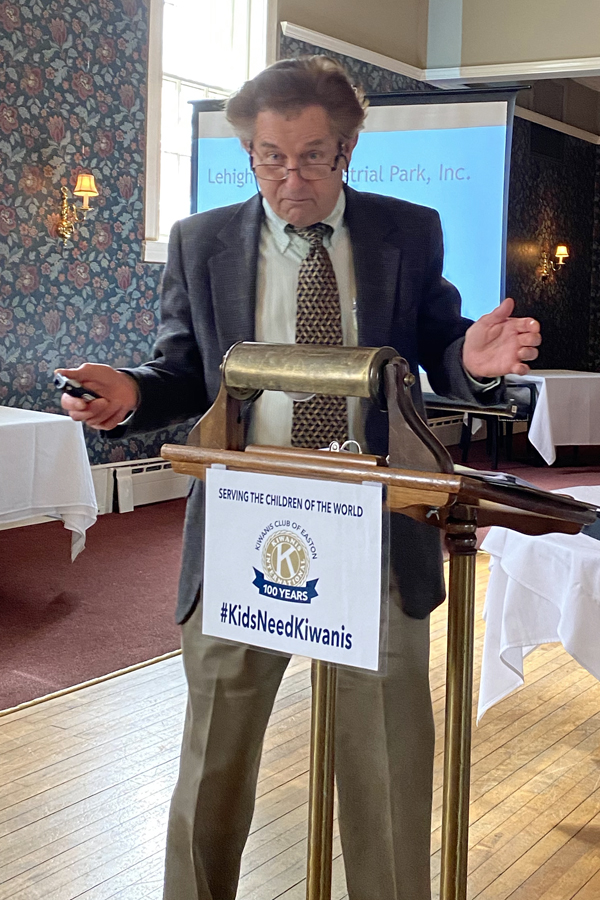 Marty and Barb are our next door neighbors and Marty is the longest member of the Lehigh Valley Industrial Park (LVIP) having spent some 33 years on the board that has just celebrated its 60th anniversary. Marty began with a true story about himself when he was back in Iowa on the farm at the age of 5. He learned about recycling early since it was during World War II and there was a shortage of silk from Japan to make parachutes. They collected Milkweed pods and processed them somehow into artificial silk. But Marty began his story prior to the beginning of LVIP. At that time Bethlehem was in its blazing glory with over 23,000 workers in the Lehigh Valley. And the steel strikes would take their toll on the local economy. In 1959 the steelworkers were on strike for a third of the year until President Eisenhower forced the strike to end. Some local Bethlehem leaders searched for an answer of how to add to the local workforce. Thus began the LVIP-1 "park" that was contained within the boundaries of Bethlehem City across from the airport. In fact Avenue "A" was the first street. It took some $572,000 dollars to purchase the land. 18 of the leaders raised $250,000 with personal financial notes of obligation and the rest through temporary loans. 233 acres began to sell for $7500/acre. They even had to raise an additional $25,000 for the first building which was purchased by NCR. At the same time they had a plan to prepare the area for Route 378 to be built into Bethlehem City without tearing down any buildings. LVIP-1 ended with 75 companies and 4500 employees. Next step was LVIP-2 along the north side of the airport in 1963. Some 20 companies and 1050 employees were in the new "park." Early in 1970 they purchased some 319 acres from Bethlehem Steel to create LVIP-3 and now some 140 companies are there employing 6000 just north of Route 22. They were on a roll looking for larger parcels of land and along came LVIP-4 with 450+ acres purchased from PPL. But it was alongside a 2-lane Route 512. The road needed to be widened to 5 lanes. It was started in 1987 and now some 120 companies employ 4500 people. But wait. Calls were coming in for larger parcels of land to build some warehouses to along comes LVIP-5. Now there are 13 companies and some 1400 employees. Now where to go next. How about along the then proposed Route 33 corridor between William Penn Highway and Freemansburg Ave. 8 parcels of land owned by 4 different owners but it was accomplished and then the future tenants were not allowed to move into any lots until after Route 33 was opened. As of 2002 there are 13 companies and 1300 employees. The currently last project completed is LVIP-7. Bethlehem Steel land was going up for bid.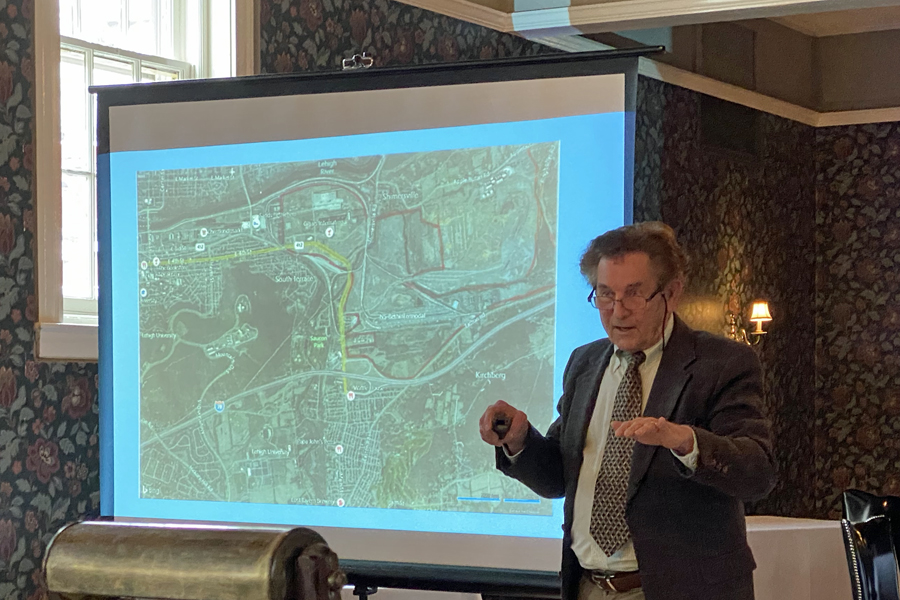 Over 1000 acres were there but a California company, Majestic Holdings, bid and got over 500 acres where they now have multiple warehouses. This whole parcel of land fronts on the southside of the Lehigh down to Route 412 and into Hellertown. LVIP-7 was able to negotiate with a large company that wanted to tear down all the Beth Steel buildings in return for a parcel of land just for the value of the scrap steel. Now they were able to install an intermodal rail facility in that area.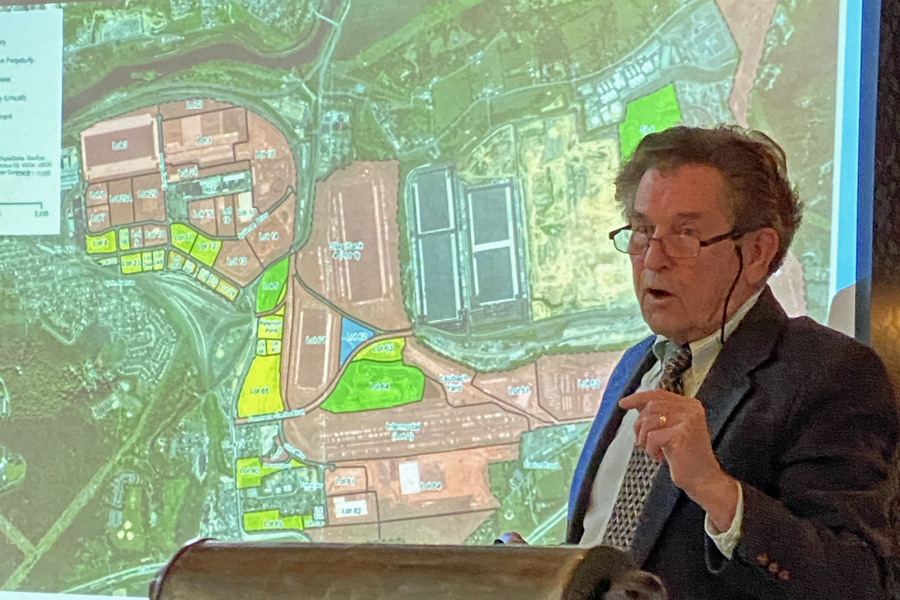 Not all of the land has been committed but there is not much left in LVIP-7. Over $100million was spent on the Beth Steel site to demo and prepare the land. Over the years the LVIP has developed some 500 new companies with over 23,500 employees and bringing in over $15million in property taxes to the Valley while adding $1.5billion in land and construction value. As Marty said, "It only took 60 years to replace the 23,500 employees that were lost when Bethlehem Steel went out of business." And in answer to one of the questions: "Yes. We are known as the warehouse capital of the US. And that is not necessarily a bad thing."