Barb's message of inspiration is all about "Be That One…." and there were many thoughts and ideas that completed the sentence. So, it's your turn to "Be that one!" We welcomed back a long-time member who has recently retired from Prudential Insurance and has promised to begin attending again. Welcome back Scott Fisher who joined Easton Kiwanis in 1984. Walt gave us updates on SLP's and the possibility they may create Christmas-Holiday cards for our IU20 Party in the fall. James reported that our EOATF committee has decided to postpone until hopefully August the previously planned event at the State Theater, due to the growing concern over the Coronavirus and how it could impact attendance. Pancake chair Janet is cancelling the upcoming fundraiser at Applebee's also do to the potential impact also from Coronavirus and also the parents might not want their children to be our helpers at this time.  Pres. Skip read a letter from Kiwanis Children's Fund thanking both Walt Howell and Al Rutherford for their personal donations to the KCF. Walt was present so Skip was able to "pin him" sort of.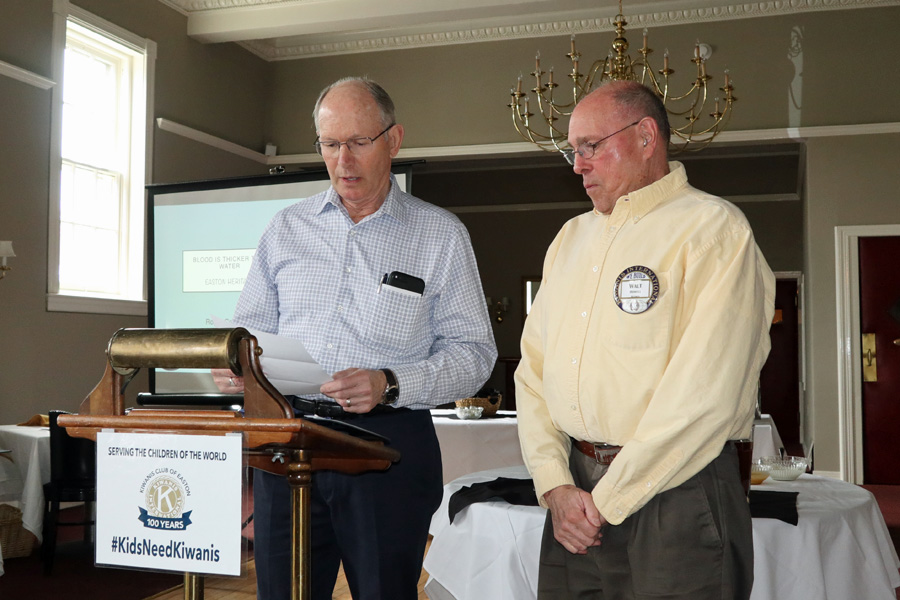 Janet presented our new "large check" to Kristen Fisher and her associate from the Greater YMCA LV-Easton/P'burg branch. We provided $800 for a summer youth camp program which will bring some history to the youth about colonial times in the Lehigh Valley and the other $284 was the interest from the Clair Churchman Day Camp investments. Clair was a long-time Kiwanian, actually a long-time club secretary, who left funds to be used for the Y's summer day camp program. This yearly presentation goes back over 30 years.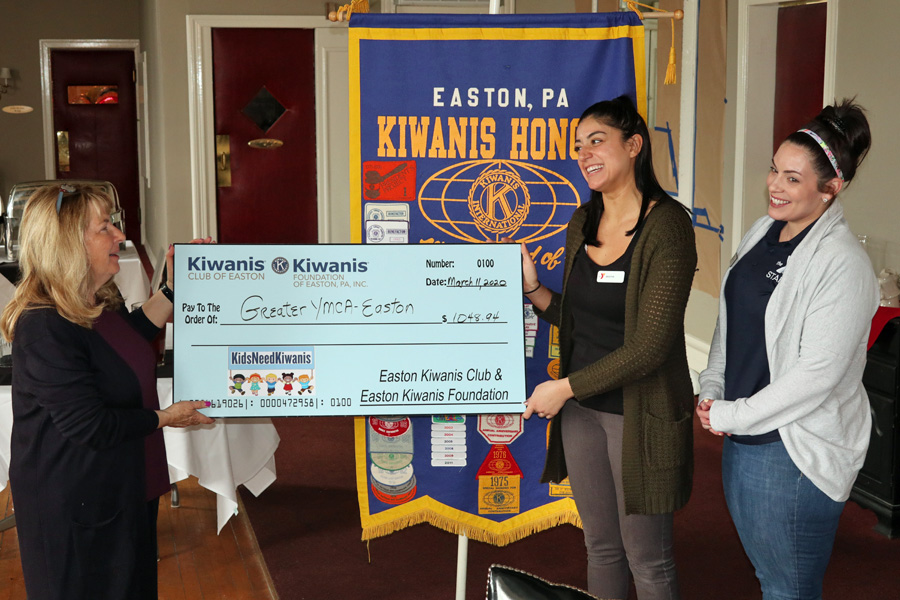 Next our own Roger Conners II presented himself as the program. Well it was really a program entitled, BLOOD IS THICKER THAN WATER-EASTON HERITAGE. Roger and his parents were life-long Easton residents and we learned about his father, Roger Conners I, a 45-year member of Easton Kiwanis who was featured in the SPORTS ILLUSTRATED September 5, 1984 magazine. Roger senior attended a Lafayette College football game in 1913 when at the age of 12 a neighbor invited him to a Lafayette-Lehigh football game and he continued attending a total of 88 consecutive games, and died just weeks after the last game he attended.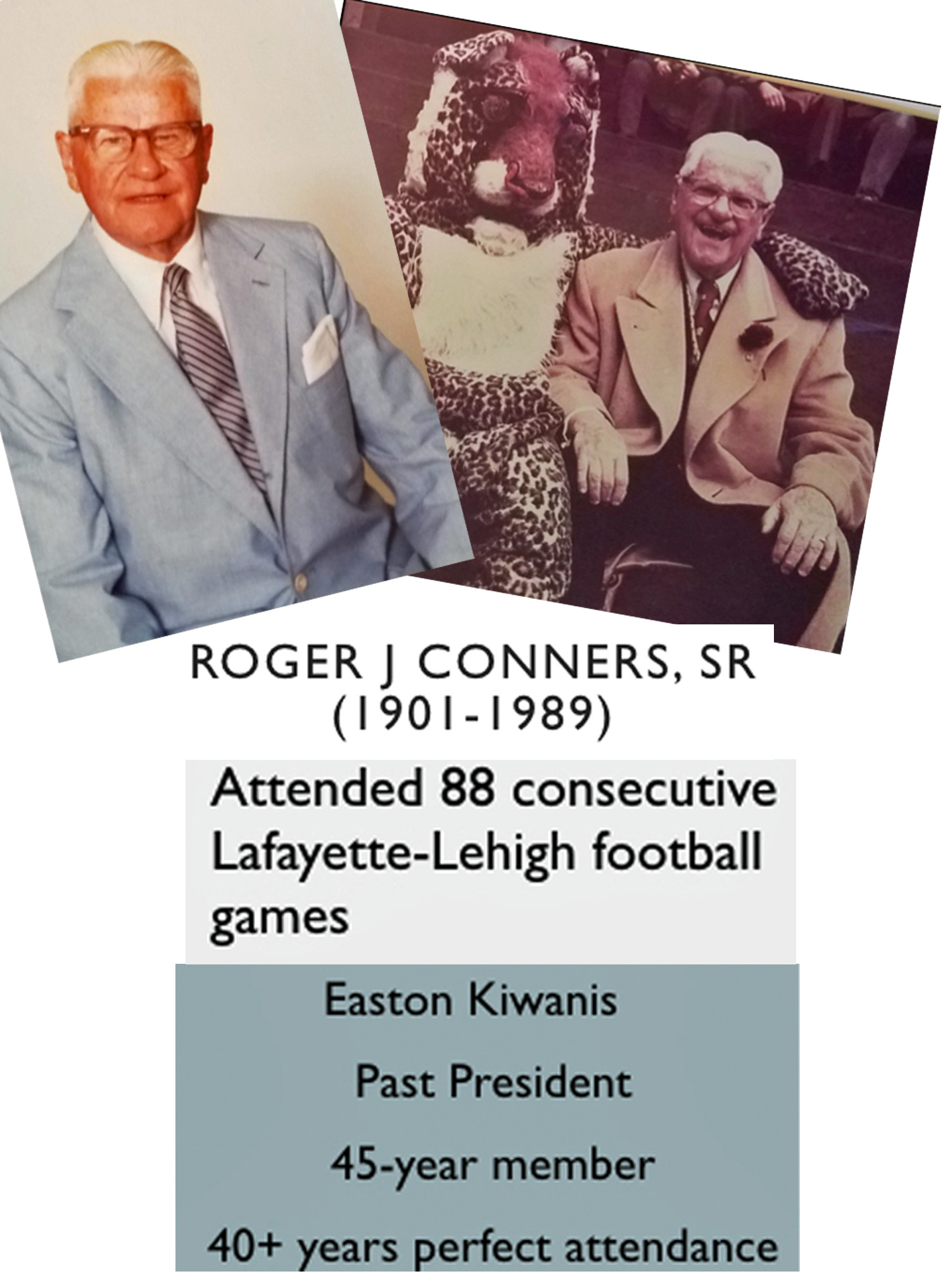 The story began with Rog going to his first game with Dr. Fox whose Model T Ford stopped going up College Hill. The doctor quickly fixed the problem with a corncob shoved into the hole in the oil pan of the car to stop the leak. Next Roger added some local background on his grandfather John H. "Pete" Conners who began his employment for the Lehigh Valley Railroad at the age of 9 as a "call boy." Living in the West Ward of Easton his job was to get up very early each morning and run via the old suspension bridge over the Lehigh to the train workers living "shacks" along Canal St. and wake them so they could get the trains ready to roll. Pete worked for the railroad for 52 years becoming a chief engineer on the Black Diamond, retired at age 70 and died at 79 and NEVER OWNED A CAR. Roger's other grandfather was John B. Schmid who was a German immigrant and after moving here as a brew master worked in Milwaukee and New York City for various beer companies. Settling into Easton he began working for the Seitz Brewery at the corner of Bushkill and Front St (now the location of, ironically, a beer store). During prohibition they continued to make soda and cereal and occasionally some beer which they usually were caught doing. They used 4 horse teams to haul 4 tons of beer in a 25-mile radius. Eventually the Seitz family sold the family brewery business to John Schmid and 3 other Easton businessmen only to close the brewery a few years later in 1938. And Roger still has a few bottles of Seitz beer unopened. He offered to anyone a chance to drink some 82-year old beer. Any takers?