A great International ZOOM meeting with 29 participants: 17 Easton Kiwanis Club members, 11 visiting Kiwanis members from California, Florida, Virginia, New Jersey, Louisiana, Ohio, PA, and one all the way from Switzerland. But we also had visitor Kristine Tanase, a potential Kiwanian thanks to Jan Schwartz. Today's Pledge was a presentation by Lee Greenwood and the Star-Spangled Banner was from Florida, the Seminole Ridge High School graduating class choir.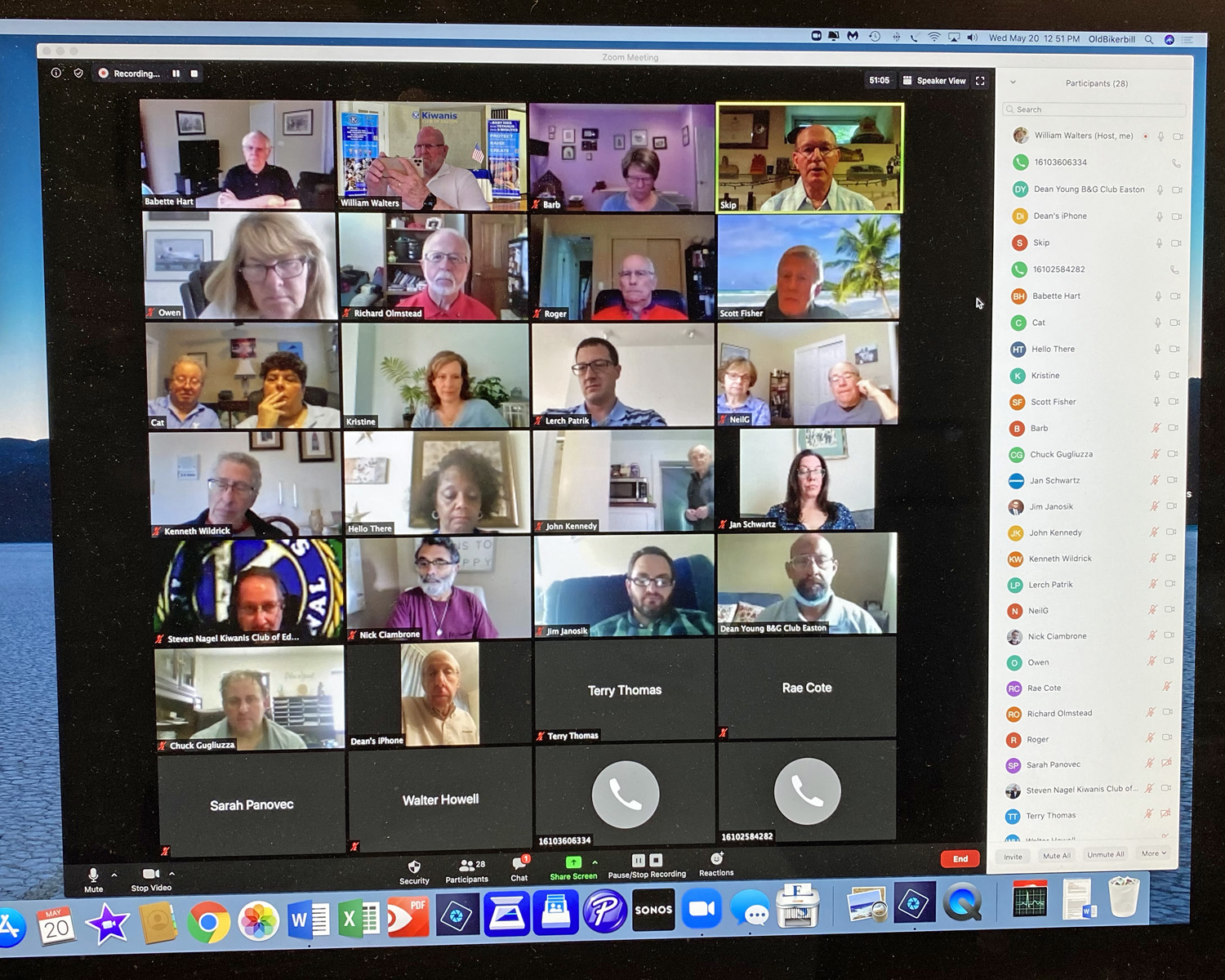 Barb presented some historical facts on the past 103 year's club presidents and their occupations. Ken gave us an updated on the EXPRESS/LVLiveOnline's coverage of the 3 grants our foundation recently provided: $5000 to Foundation for Easton Schools for a "zSpace Learning Lab" computer system to peek inside the human body without the aid of a scalpel; $5000 to Easton Area Community Center supporting its summer programs and its after school programs this fall; $2000 unrestricted grant to ProJeCt of Easton various programs such as their food bank, family literacy and others. Walt continued with updates on our 2 C.I.T. Scholarships. The students have been identified and both are continuing their education at Northampton Community College. Certificates will be prepared for a presentation at a time yet to be determined. Bill expressed condolences to our club member Charlie Adams on the death of his 95-year old mother Jane Adams. And hopefully Charlie's wife Sandy will come home from the hospital soon. Bill also explained about a recent ZOOM meeting he attended regarding a Q+A from 4 of the 5 candidates running for Kiwanis International Vice-president. Normally one would be elected at the International Convention which has now been cancelled and per Kiwanis Bylaws it states a Kiwanis Council would convene and elect the Board members who would have otherwise been elected by the House of Delegates at convention. Council is comprised of the Kiwanis Board of Trustees, the District Governors, the past Kiwanis presidents, and the elected leader for Europe and Asia-Pacific. A date and method of meeting has not been finalized as Kiwanis waits to see what the pandemic looks like in the coming weeks and month. I understand that PA Kiwanis will soon be sending out an email with possibly a short video from each candidate so that Kiwanis members can make comments back to our club that we can forward to our District Executive Kevin. All of our online-visitors had a chance to say hello and a little about themselves and their clubs. And Kristine has the opportunity to be our newest member joining under the $20 COVID-19 "revised membership fee program." Skip them presented his program assisted by the over-paid-audio-visual-department of Easton Kiwanis A.K.A. our secretary Bill. Prior to Skip's retirement in 2012 he was head of the security for the Lehigh Valley International Airport (LVIA) and has had experience in the pre-planning with the Secret Service for an arrival of Air Force One with the President and his entourage. A few days prior to the planned event a C141 Lockheed Starlifter cargo plane arrives with multiple Secret Service vehicles, sometimes a smaller Marine One helicopter and "The Beast", the presidential limousine.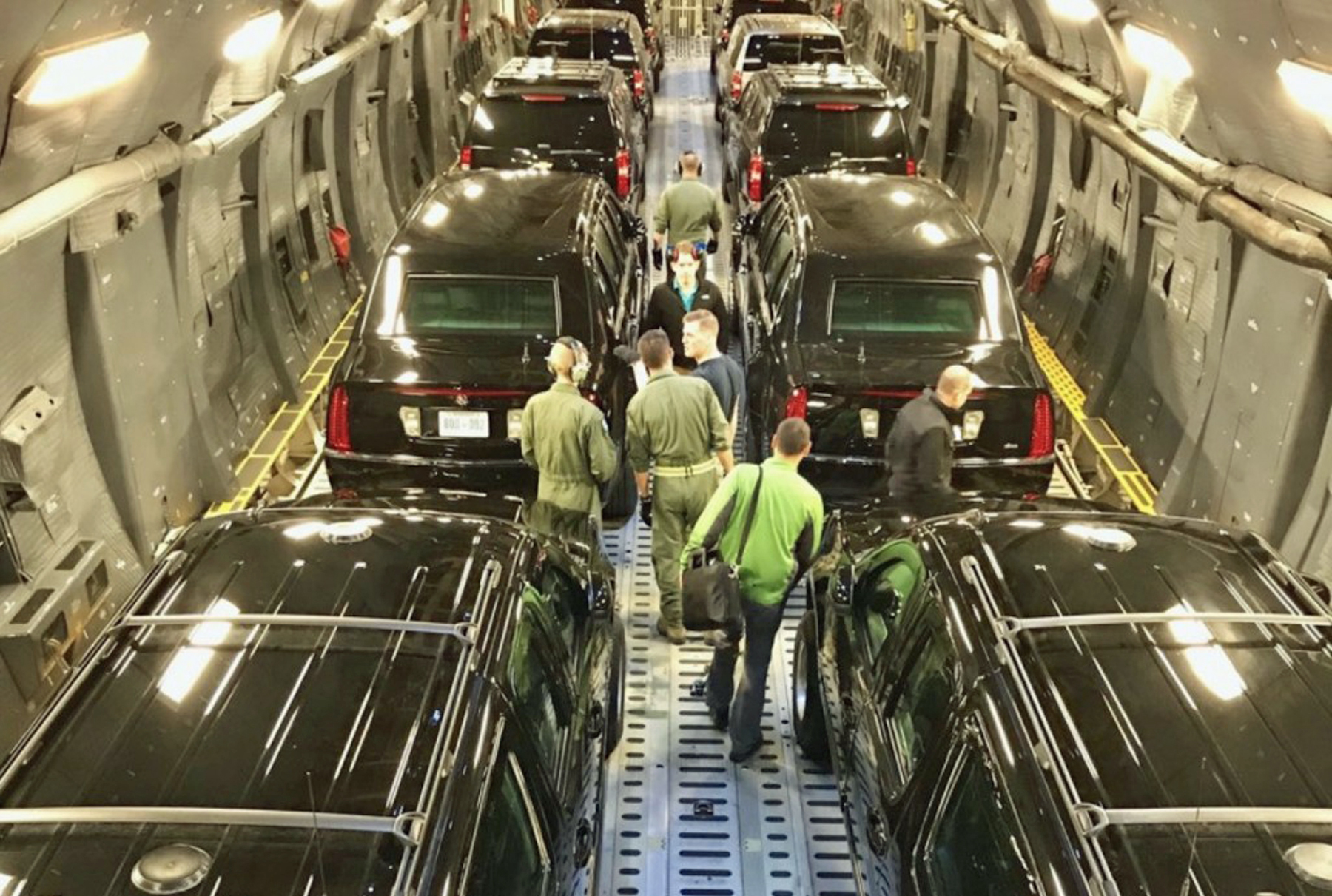 We learned of the extreme security around the airport and the fleet of support cars accompanying the president once he is on the ground and traveling to wherever he is visiting in the Allentown area. He explained that when the president arrived during Skip's tenure at LVIA they needed to park multiple tractor-trailers in front of a section of airport fencing so as to block visibility from a nearby building, for security. And Skip wondered why on this visit to LVIA President Trump did not arrive in the normal Boeing 747 Air Force One but instead in a CA32/757. Presidential Boeing 747 has in the past landed at LVIA. And Skip did once get to visit inside of Air Force One, but he said he would save that story for another time.