The meeting started off with the PLEDGE of ALLIGENCE from "The Rock" Dwayne Johnson and followed by GOD BLESS AMERICA from The Duke" John Wayne and dozens of his actor friends from the 1970 TV special Swing Out, Sweet Land. Tried to get your heart pumping. Walt reported that our Shawnee K-Kids Advisor Givon Ellison's class took 6th place in a national First In Math and the Shawnee elementary school took 1st place. He also reported that he has received a "thank you" letter from one of the scholarship recipients. Terry Thomas gave us an update on the film, BRAIN MATTER explaining that children need to learn to play from an early age. Its required in the development of their brain and body. She will make available a link to view the video. Skip reported that recently he, Janet, Neil and Sue reviewed the questionnaire that we all had the opportunity complete some months ago. Only 15 people did respond but much has been gleaned from the comments. Some highlights: develop a liaison with Palmer Kiwanis; create a member-buddy system; adopt a family at Thanksgiving & Christmas; create a slide show for the beginning meeting of SLPs; is there a way to lower/subsidize the cost of dues; find some "hands-on" project as opposed to a speaker; more involvement by more members; find a way to recognize our SLP advisors within their schools; determine what is "our club's purpose; bring back "happy dollars." More to follow on these important considerations for our club. It was great to see Vic Dennis was able to ZOOM in for a meeting from his "quarantined lair" at Moravian Hall Square. Bill reported that he spoke with Nancy Fifield and Bill is slowly diminishing and now their son is in the hospital. Charlie's wife Sandy Adams is home recuperating and awaiting her heart surgery in coming weeks. The PA Kiwanis District Board has cancelled the August District Convention in Reading. While we are not seeing each other "live eye-eye" we are Zooming together.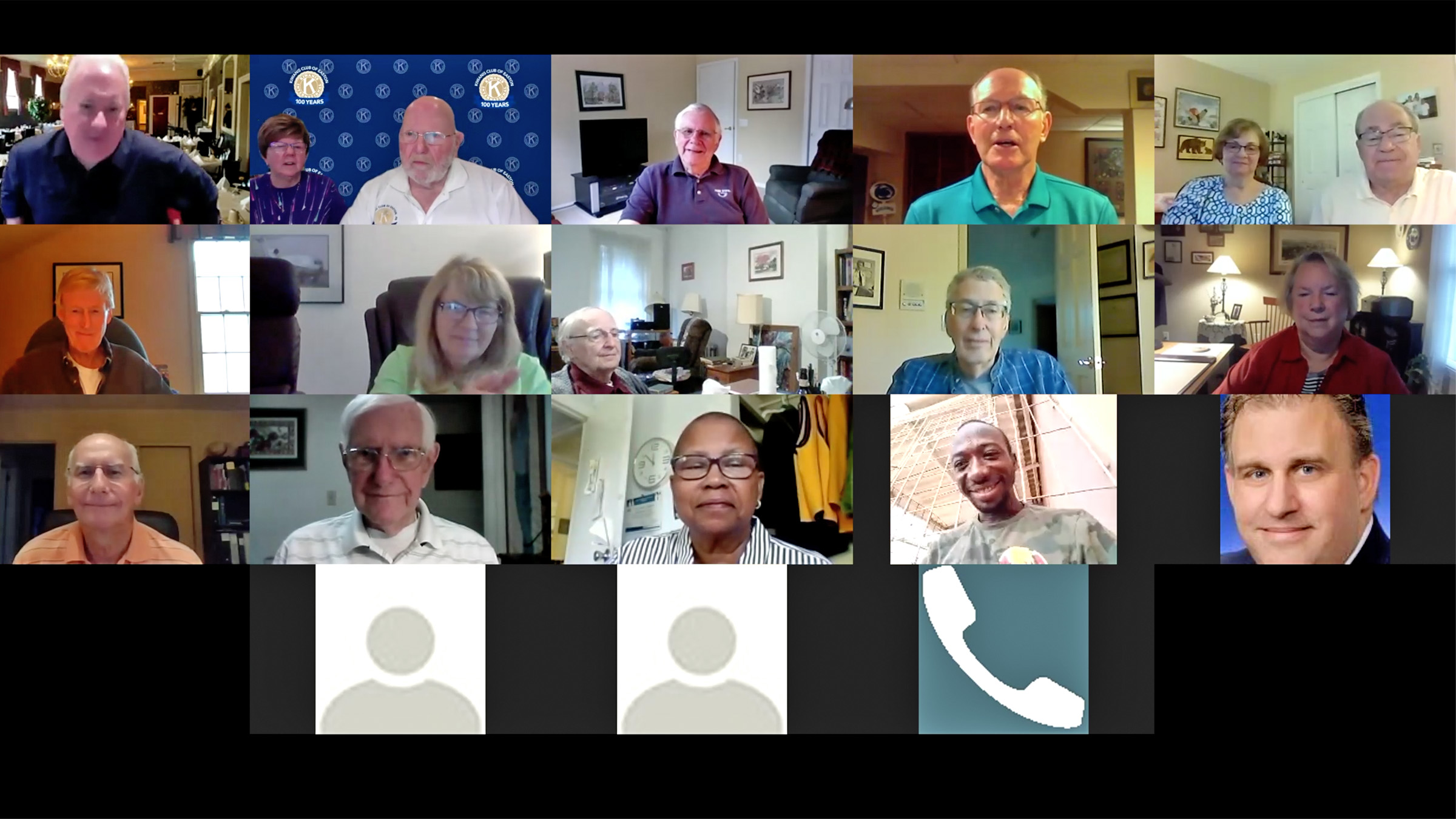 We're saving the cost of speakers @ $13/ea. vs cost of Zoom @ $15/mo. And our members are saving on the cost of weekly Pomfret Club meals @ $13 each week. And it would appear there will be quite some time before we can meet at the Pomfret Club. Once allowed they will open but with strict CDC policies there will not be any buffet or "large parties." We also welcomed our guests, Bob Moran-Palmer Kiwanis President; Chuck Gugliuzza, Intrl. Trustee-candidate for VP; Hope Markes Villas, from Jamaica; Taouvik Boukari from Togo West Africa Kiwanis club Togo. And Hope Markes mentioned that "anything our club can do to work with the SLP kids is very important." Skip had to jump off early but then Bill showed a 10-minute video clipped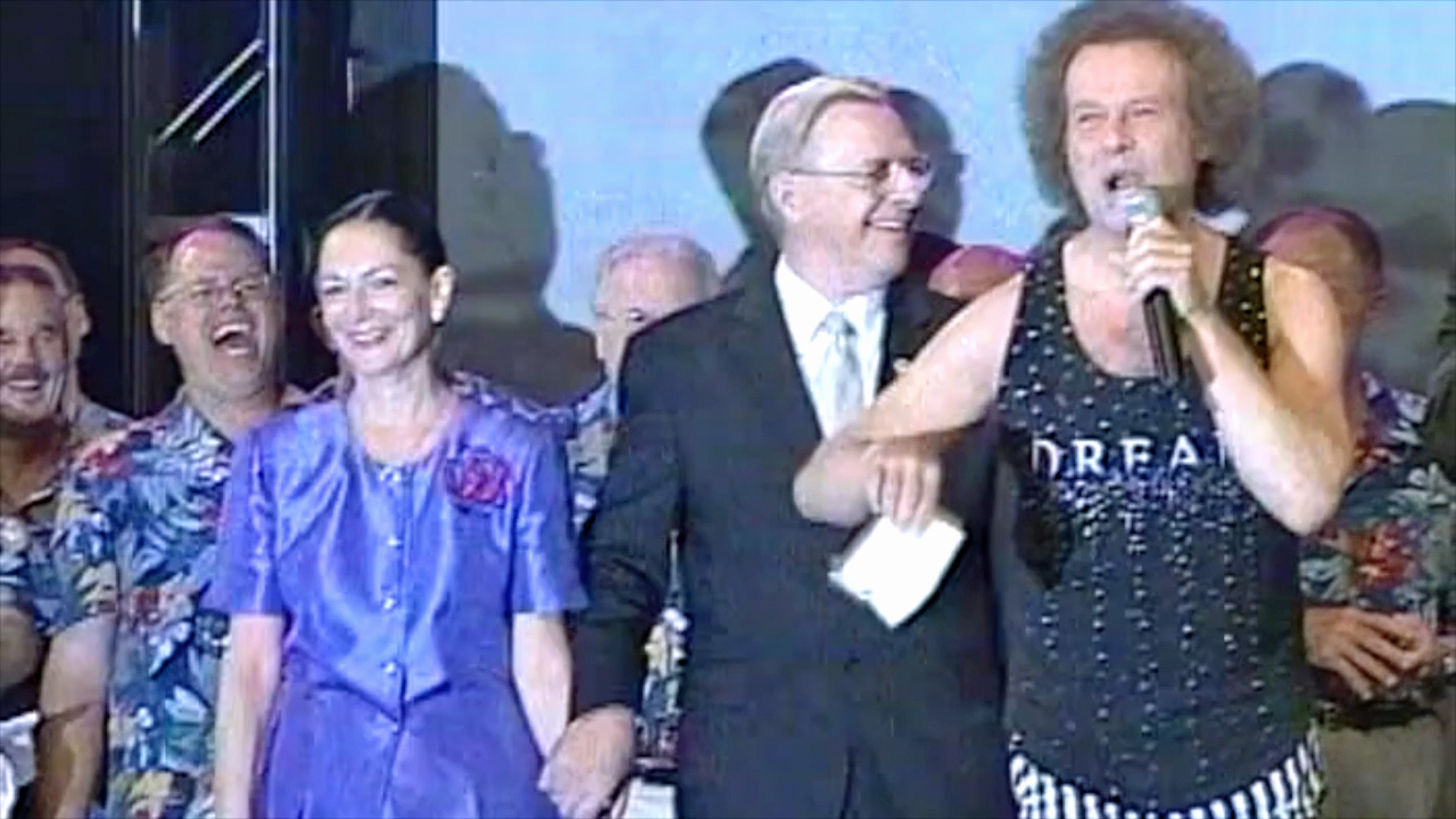 from the 2004 Kiwanis International Convention in St. Louis staring the International Board et al and International Presidents past & incoming et al and joined by Richard Simmons. I should have showed this a few weeks ago when Richard Simmons brother Lenny and his wife were on our Zoom meeting from New Orleans. Unless I hear otherwise, I will continue to develop short videos from past Kiwanis conventions as I have many years on DVDs and if you have any requests or suggestions please share them with Bill.