Great meeting today with 13 members and 8 visiting Kiwanis members. Today's PLEDGE OF ALLEGIANCE was a video of the recently departed Charlie Daniels reciting the pledge at a concert. The STAR SPANGLED BANNER was a retired Marine singing the 2nd verse, which no one ever sings. FYI, tomorrow is Watson & Babette Hart's 65th wedding anniversary: Happy Anniversary. (BTW, that was the year of the '55 flood.) Suggest you reach out to your normal rose-sale customers and ask if they have any concerns about us boxing and you delivering their flowers this year.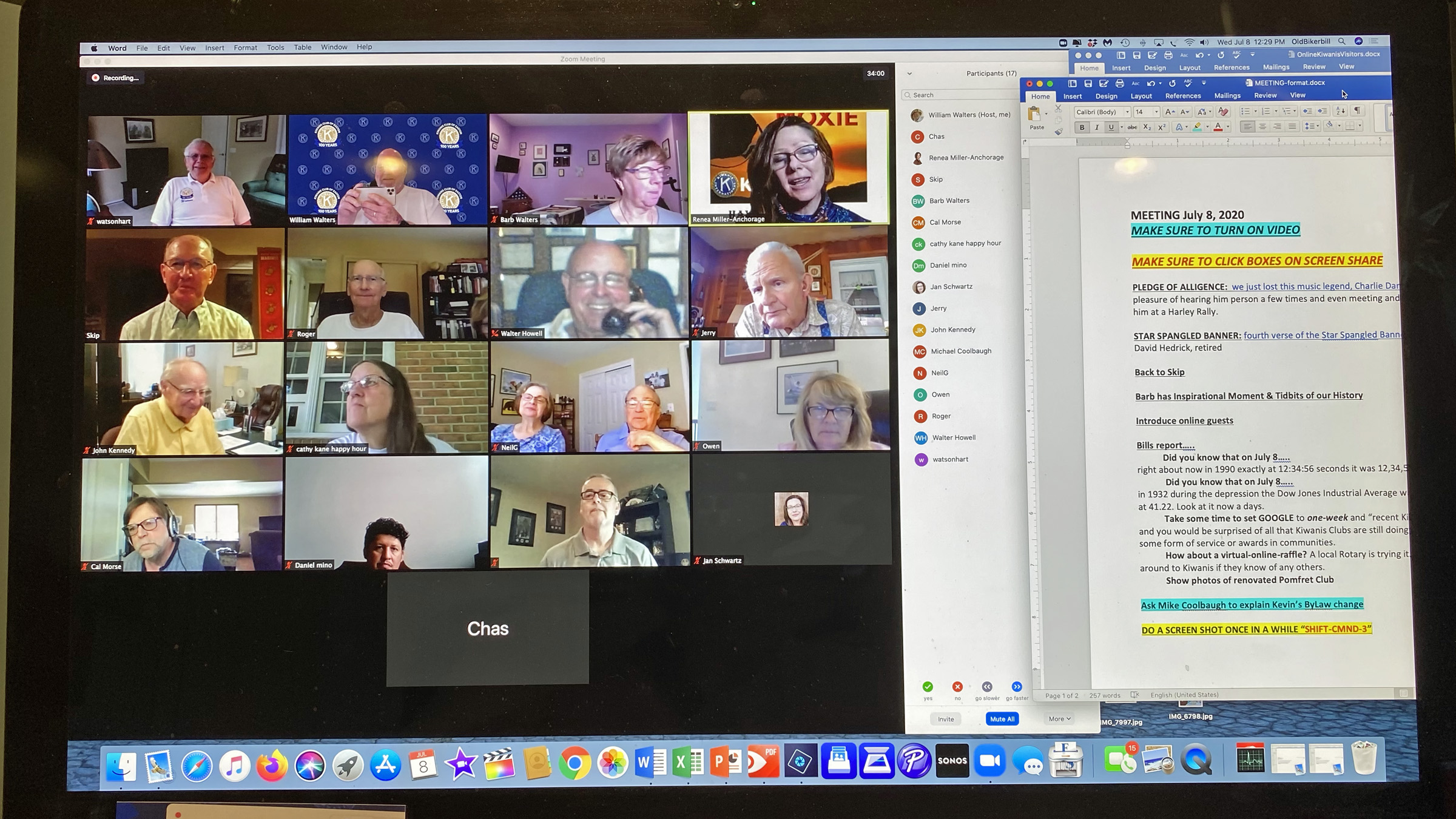 Roger wanted to remind members of the death of a long-time Easton and then Palmer Kiwanian, Bob Daws: he was president of Easton Kiwanis in 1973. Bill showed some photos of the newly renovated inside of the Pomfret Club, our normal meeting location. They're still awaiting window coverings and carpeting but the paint and walls look great. Our Trustee Mike Coolbaugh explained about the upcoming District Vote changing the PA Kiwanis By-laws simplifying the language for who is allowed to be a Lt. Governor. The new by-law, if approved will state: "Each Lieutenant Governor and Lieutenant Governor-elect shall be a member of a club in the division from which they are elected; shall be, or have served a full term as, a club president, vice-president, secretary, or treasurer; and shall be active in the affairs of their club and their division". Good news: Nick Ciambrone is recuperating well from his heart valve replacement as he's home and out "walking in the cometary."  Next weeks' meeting program is scheduled to be from the 2005 Kiwanis Convention in Honolulu: "There is a casket involved: IS KIWANIS DYING?" 


Today's program was presented by member John Kennedy. It was the 3rd and final part of his real-life experience "Race Relations:  A Personal Perspective from My Experiences." Part 3 begins with information about the 1896 US Supreme Court ruling Plessy v. Ferguson that upheld the constitutionality of racial segregation under the "separate but equal" doctrine. It came about by a request to maintain segregation on passenger train cars. But tin 1957 the Supreme Court 's Chief Justice Earl Warren changed things again with the Brown vs. Board of Education which rules racial segregation in public schools violated the Equal Protection Clause of the 14th Amendment.  Students of color in America would no longer be forced by law to attend traditionally under-resourced black-only schools. In 1957, Dorothy Counts endured a taunting mob to integrate a Charlotte, North Carolina school. Sixty-one years later, her work is being undone. When Dorothy showed up for school she didn't make it into the building before she was targeted and told to "go back to Africa." April 1971 and along comes the Swann v. Charlotte-Mecklenburg Board of Education, which was a landmark United States Supreme Court case dealing with the busing of students to promote integration in public schools. The Court held that busing was an appropriate remedy for the problem of racial imbalance in schools and to ensure the students would receive equal educational opportunities regardless of their race. Now John left teaching in Washington, DC due to his involvement in speaking about various politics. He landed a Math teaching job at the Northwest Charlotte, NC, highs school. Built in the middle of black neighborhood to avoid bussing, he and wife Fran decided to live within walking distance of the school. While white parents thought the Supreme Court would reverse and go back to segregation, it did not happen. It was the high school parents that decided that they would make it work: keep the integration of the schools. City officials also agreed to make it work. The school district became the most integrated city school system in the USA. But, now Charlotte has again become a segregated school system. While John was only at Charlotte for one year, he then took an opportunity with a scholarship at University of Illinois to get a Math Masters Degree. He next switched to Comparative Education, a study in education across all cultures. In 1975 he and his wife Fran moved to Puerto Rico and they both taught Math in an integrated school for the next 25 years. Along his life's travels, he has written a book about their experiences in Africa: LAST LORRY TO MBORDO, A novel by John C. Kennedy, available @Amazon or calkennedy@yahoo.com.