We had a good showing of members, 16 for our regular meeting and the board meeting. Janet took charge and welcomed a face we have not seen for some time, Tom Malerba.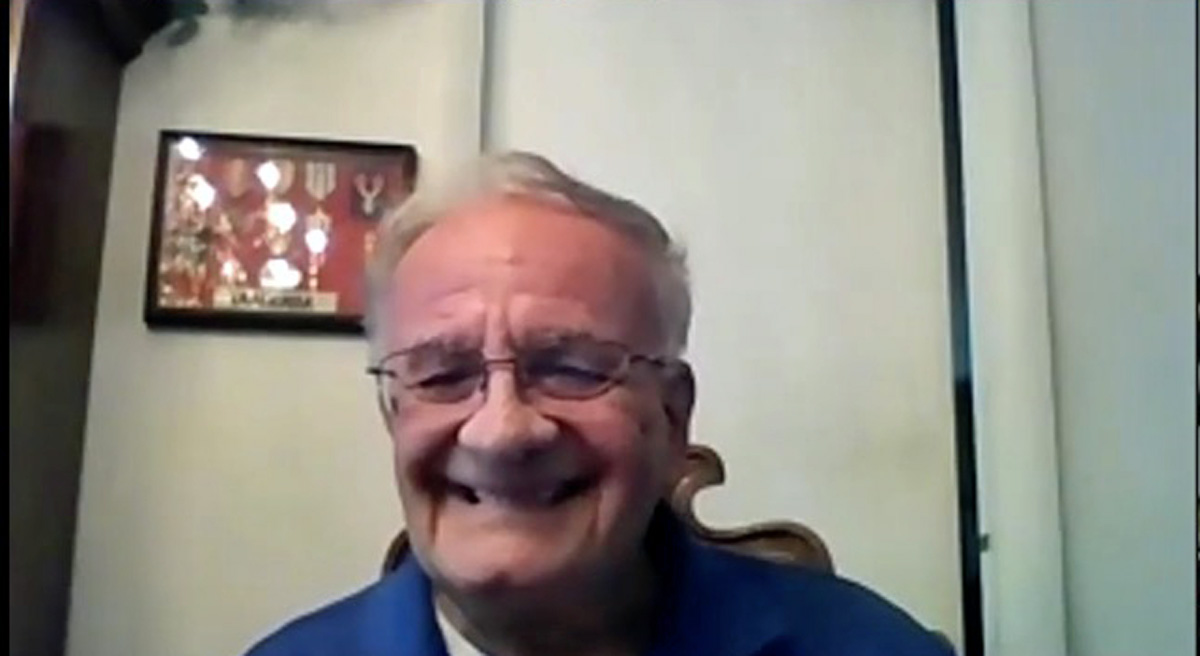 Bill spent some time with Tom explaining about Zoom and now we can all "see" Tom. Our good friend Chuck Gugliuzza, currently International Trustee, joined us from his office in Florida along with Charlie Chase from Allentown Northeast Kiwanis. Our PLEDGE OF ALLEGIANCE was presented by 2 students from Arizona in celebration of World Hearing Day. They did the pledge with sign language at the start of one of the Arizona Senate sessions. And an American Medley of patriotic songs was presented by the "Charlotte Avenue" singers. A moment of silence was observed for Susan Fairchild, Pres. Skip's daughter-in-law, followed by comments from our member Sue Gallagher, a former teacher in the Phillipsburg School District who knew Susan Fairchild, who was a first-grade teacher for 23 years at Phillipsburg schools. Janet reported that she and James have begun delivery of cartons of PA Literacy Guides. James reported they will both be attending the "Fed Up Rally" for "Voices for Change" on Monday. "Voices" is one of the partner groups with the Easton Opioid Awareness Task Force. James also reported that EOATF has been a bit dormant during the COVID and also while he is winding down his career with United Airlines. James informed us he only has 2 months left of flying and he said its 2 months of "heavy flying." Well, he does fly the "Triple 7 Boeing" airplane and the cargo bay can carry upwards of 150,000 pounds of cargo. I'd call that "heavy." Janet and James will also represent Easton Kiwanis at the Miracle League Trunk or Treat Halloween event. Gary's sister is expected to supply candy from Just Born for this. Walt is in constant contact with the various advisors of our 5 SLPs as the Easton School opening and operating has been in flux. And now some information from the Board Meeting. Our club will be supporting PA Kiwanis' "Dollar$ for Dues" with $100. The PA District will match clubs' gifts up to $2000 total and this will provide funds for PA Kiwanis members who are finding difficulty in paying their dues this year due to employment issues, et al. Speaking of PA Kiwanis, the district is having their annual "Kiwanis Kash"


raffle on October 3: tickets are $20, 1st place winner will receive 35% of the total sold, 2nd place 10% and 3rd place 5%. Currently the current 1st place prize is over $650. Barb discussed the upcoming Rose Sale Fundraiser. She expects this year we probably will not sell over 200 dozen, and efforts will be made on the assembly line for social distancing as some additional tables will be brought for this. Paid Rose Sale orders need to be in to Barb or Gary by Wed. Sept. 23 and the delivery/assembly will be on Thursday October 22nd. Bill has been in contact with the IU20 and there are no "field trips" for the students this year hence no Christmas Party. But the IU20 is thinking outside the box. Maybe they will allow us to do-our-thing and assemble the bags at the IU20 main office and then the IU20 will deliver the bags to the various schools and possibly we could have 1 or 2 Kiwanis members at the school to be present when the children receive the bags. More to come on this. We have also now committed to our Zoom license for one year, thereby actually receiving 2 months for "free." A committee will be formed to determine how to establish a PayPal account along with enabling Facebook to certify us as a "charitable account" to accept donations/payment via Facebook and thereby enabling us to do online fundraising. Upcoming programs: Sept. 2 Pres. Skip will possibly present: "A Year in the Life of a Combat Marine"; Sept. 16 Ken Wildrick will present a "Trip to South Africa on a Safari", Sept. 30th at the Boys & Girls Club our 2020-21 Installation of Officers & Directors; Oct 7 our good friend Chuck Gugliuzza from Florida is the program. And we're looking to get back to seeing each other live and in person, face to face, sort of, with social distancing and masks, by holding our September 30th meeting at the Boys & Girls Club. We can all get to see the new Community Garden. This will also be our installation of 2020-21 Officers & Directors and our Lt. Governor will do the installation. Yes, it's official, Enos Martin is now a Lt. Governor. He recently gave up his "Acting Lt. Gov." title at the PA District Online "Convention meeting." So put all Wednesdays on your calendar to be at your club meetings on Zoom, for now, BUT put September 30th on your calendar. You will need to actually get dressed with a decent shirt and pants and come out to the Boys & Girls Club for our live and in-person meeting. But we will have a laptop prepared with Zoom at that meeting for those who cannot attend in person.