Well today it was past-president Neil's turn to take charge of the weekly Zoom meeting. We had 10 Easton members and 3 regular-visiting-Kiwanians.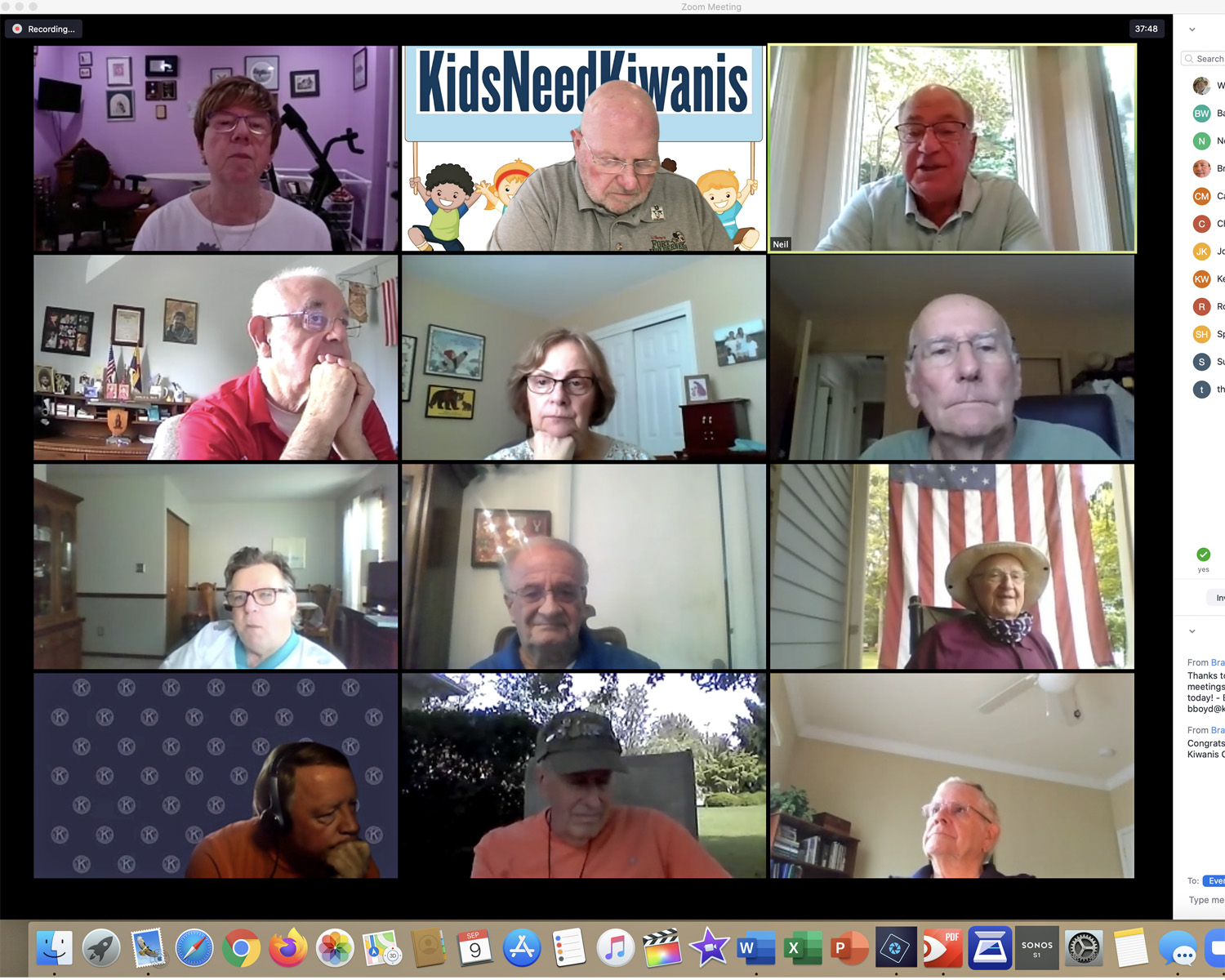 Bill opened with his usual video presentations. Elorie, a young student from the James A. Caywood Elementary School, Ft. Mitchell, KY, recited the PLEDGE OF ALLEGIANCE. And the NATIONAL ANTHEM was presented  by the Traverse City, Michigan Coast Guard & Traverse City Marching Band performed for the Patriot Game on September 11, 2015. And since this week we will be observing 9-11, a video from Alan Jackson performing, WHERE WERE YOU WHEN THE WORLD STOPPED TURNING was shared. Bill also presented some information on the 9-11 TRIBUTE IN LIGHT which was not going to happen this year until the "Tunnel to Towers" organization decided to cover the costs and they will also be providing a similar light display in Shanksville, Pa. and at the Pentagon. Barb reminds us all that the orders for roses must be conveyed to her by September 23rd. Comments were provided by Cal Morse-Erie Kiwanis Club President, Brad Boyd-Kiwanis International Central Area Director and Charles Chase from Allentown Northeast Kiwanis. Bill provided some background about today's program, the FAMOUS PEOPLE PLAYERS of Toronto, Canada. Bill and Barb saw them perform at the Kiwanis International Convention of 2005. So, when Bill began to edit their performance from the KI Convention video, he did some homework and realized a tremendous amount of history about their background that he was unaware of and felt it was worthy to share with everyone. In 1974, Diane Dupuy, the founder of Famous PEOPLE Players (FPP), began working with adults with various forms of disabilities to create an on-stage acting performance using costumes and black-light.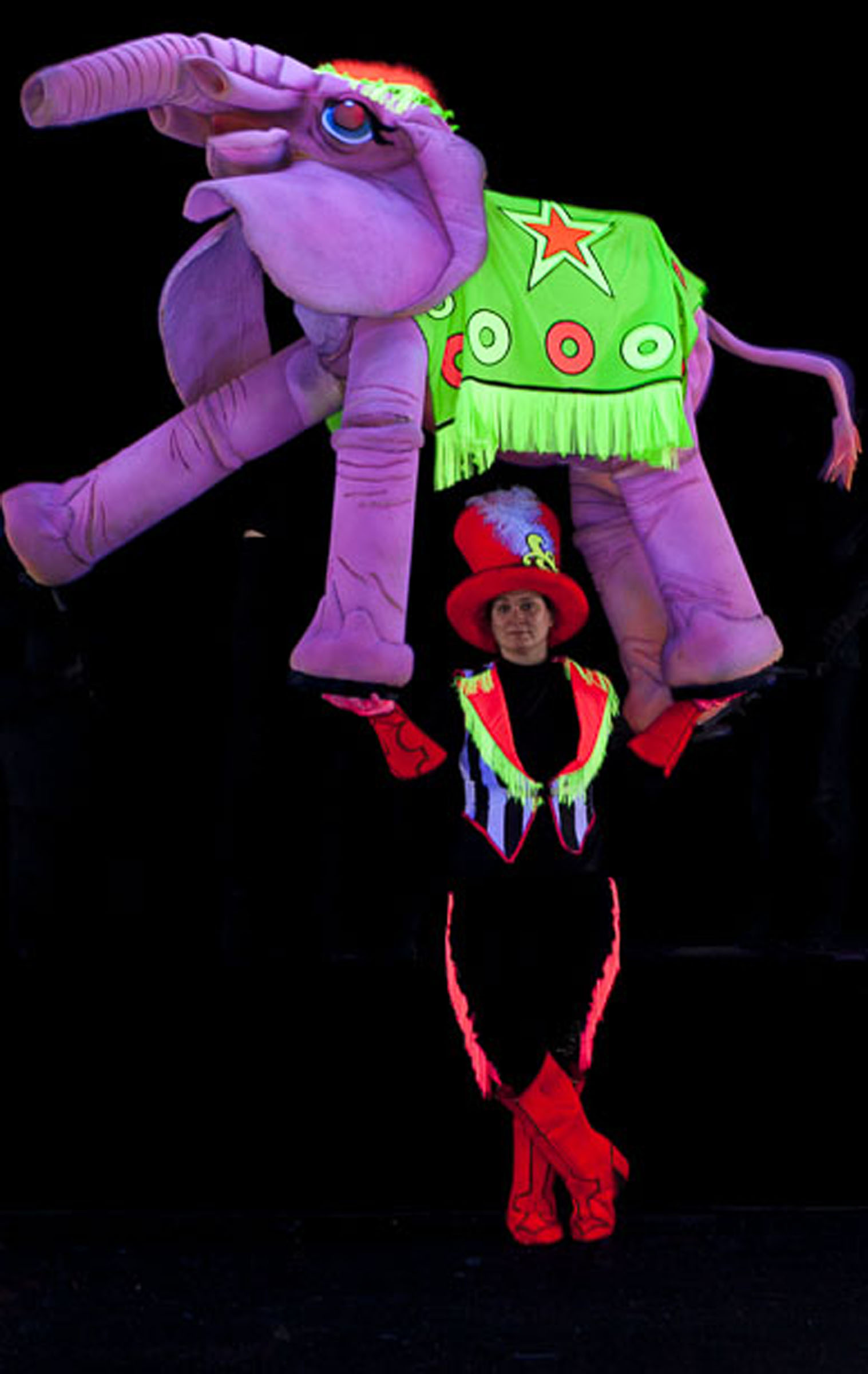 This allowed the actors to be in completely black costumes and operate the colorful "puppets" under black-light. She was tired of people referring to them as "mentally retarded", and she was going to show them they were not. Well some 46 years later I think she has shown the world the abilities of the FPP. Early on they caught the eye of non-other than Liberace who booked them to his Las Vegas stage for 10 years. Two-runs on Broadway and their production of the Sorcerer's Apprentice was part of the re-opening of Radio City Music Hall. Paul Newman appreciated them and helped greatly with their development of their Dine & Dream Theatre, a working restaurant-theatre in Toronto. Diane was awarded the Order of Canada and the Queen's Jubilee medal for her work in Theatre and her dedication to the integration of PEOPLE with disABILITIES. Over the years they have returned to Japan many times to perform. In the first part of the video, from the 2005 Kiwanis Convention when Diane is on stage with Kiwanis President Steve Siemens, she made a very poignant statement, "Everybody has a dream. I believe when you're born an angel flies thru the window of the hospital carrying your special dream and the angel puts it in your heart and locks it and flies away. Now it's up to you to unlock it and discover it and dedicate the rest of your life making that dream come true." As you watch the 2nd part of the video you will learn more of the overall history of how the FPP has come to be where it is today and of the many world-known entertainment figures that have helped them along the way with many dreams that have come true. I want to add their dinner-theatre to my bucket list.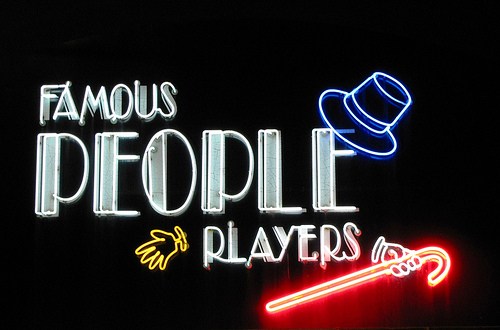 "When you come to FPP to Dine & Dream Theatre you will meet our special angels, the PLAYERS and I promise you they will make a memorable difference in your life. That is why this is where special happens and that makes all the difference in the world."