Dec 6 Easton Kiwanians are getting ready for Christmas as they provide an entertaining afternoon for about 100 young children from the Colonial Intermediate Unit 20 at the IU20 offices. This annual event has been going on for over 35 years with Easton Kiwanis.
First the Easton Kiwanis members show up to fill goody-bags,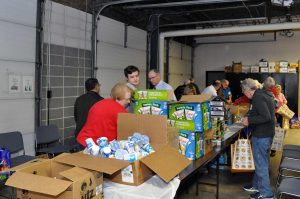 all thanks to the various corporate chain-food stores in Northampton County and other local food suppliers. They get filled with candy, fruit, snacks, candy, juice-drink, a book about Olaf from the movie "Frozen", Crayons, did I mention candy and a teddy-bear. The kids' afternoon begins with magic from Tom Yurasits and then during his magic act, "Flat-Santa" was supposed to come down a portable chimney he was holding. Santa seemed to have disappeared but what to the wonder and cheers of the kids Santa appeared in the doorway life-sized. And with a ho-ho-ho he made his way around the room and stopped to see each and every child present. Then when it was time to board their busses back to their schools each one got their own goody-bag from the Easton Kiwanis members present at the doorway wishing each and every one a very merry Christmas.