Oct 4 John Kennedy opened the meeting by saying for the last time as president "Welcome." He thanked those who filled in for him when he was "under the weather". He then introduced our visitors; Ed Derring fellow Kiwanian from Florida/Ohio and his daughter, Kathy; Executive Director of PA Kiwanis, Kevin Thomas who spoke of the past 100 years of Kiwanis and the need today of all service organizations like Kiwanis to help guide our youth; and Lt. Gov. Tim O'Donnel who spoke also of Kiwanis' 100 years exemplified by Easton Kiwanis. John then asked for reports; Walt needs help next Wednesday with a K-Kids meeting and Janet stepped up to help out as Walt will be out of town. Soon to be new member James spoke about the opioid awareness committee and said he and the committee are collaborating with various other organizations to make people aware of the crisis. Barb gave a rose report and will be asking for help on delivery day, October 19, to package and deliver the 180 dozen roses that we sold. Neil spoke about walking for the American Diabetes Ass'n. and passed around an envelope for donations in the name of his grand-daughter. John then turned the meeting over to Lt. Gov. Tim for the installation of the officers for 2017-2018. The officers are as follows; Directors-RuthAnn Arras, Joanne Cappellano, Chris Palz & Sara Panovec, Treasurer-Gary Tempest, Secretary-Barbara Walters, Vice President-Skip Fairchild, President Elect-Neil Gallagher, Immediate Past President-John Kennedy, and finally, President-Bill Walters.
Bill then turned the tables on Lt. Gov. Tim by presenting him with a Lt. Gov. Elect pin challenging him to find his replacement for next year. John then in his final act as president turned the gavel over to President Bill, who then presented John with a token of the club's appreciation for a job well done. Bills first "official act" was to replace the Kiwanis sign on the podium with our new 100th Anniversary Logo. Ken Wildrick president of our foundation then interrupted Bill with an introduction of Bill's daughter and son-in-law who surprised Bill with the news of a challenge that they put out to the club members that resulted in gifts to the foundation totaling $1,000 in his honor. We don't often see Bill speechless, but he was close to it! Then Bill presented 100-year club patches to seamstress Barb to be placed on our banner. After all that, Bill brought up Janet who introduced new member James Owen.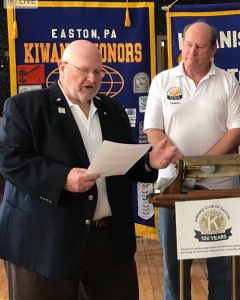 Then Bill brought up Al Rutherford who was then inducted as a "new" member of our club.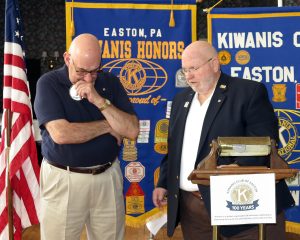 As that was being finalized, Dean passed out the newest brochures about our club project "The Easton Playground and Sustainable Gardens" at the Boys and Girls Club, printed in memory of Elaine Rutherford. Bill then got to give his "acceptance" speech and spoke about the difference of being a "member of Kiwanis" (a noun) and being a "Kiwanian" (an action verb) and challenged the members to become Kiwanians and to introduce others to the lifestyle of Kiwanis. Next week there will be a board meeting before the regular meeting, and then a foundation meeting after.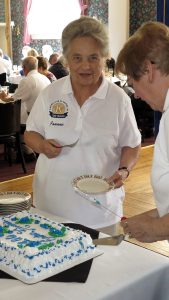 Many thanks to Joanne Cappellano for the wonderful cake to help jump start our 100th year!